Are you ready to go deeper with your art practice?


Do you want to explore the "why" behind your work?


Are you wanting to explore what inspires you,
what motivates your work, and how it
fits into a larger art historical perspective?


Get the individualized feedback & direction you need
in this series of
SIX 30-minute sessions
with Lisa Pressman.
Do you want feedback on a new body work you created?
Have you hit a wall with a piece and not sure what it needs or how to finish it up? Get vital guidance on how to know when a painting is finished.
Do you need help in creating a plan on where to go next?
Jumpstart your
art practice in 2021
Are you looking to shake off 2020 & make a change in 2021? Ongoing mentoring is the perfect way to get clarity on your goals, to understand the "why" behind your work, & to stay focused.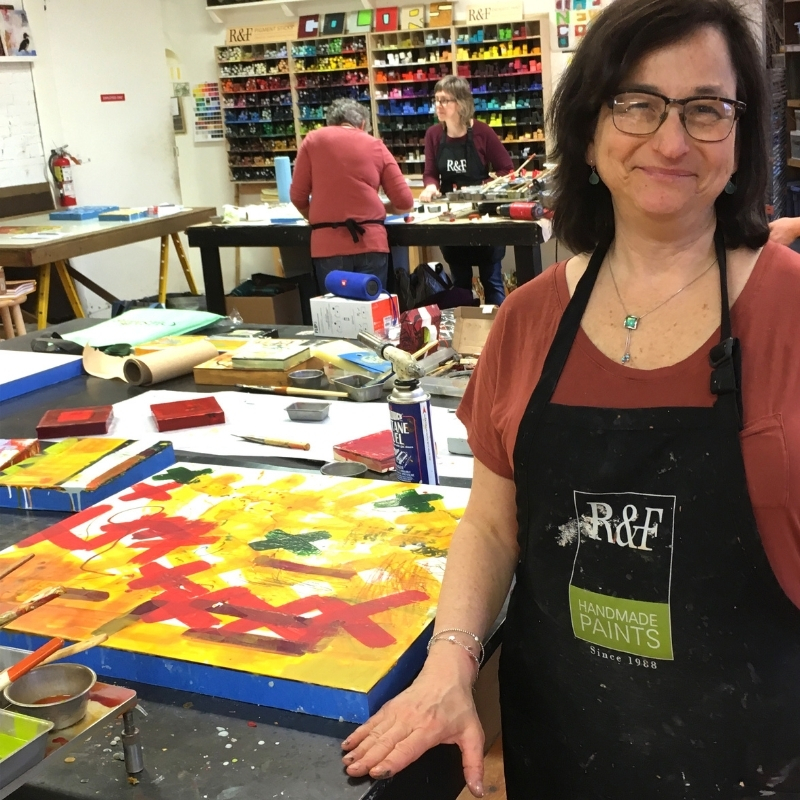 Need support & ongoing accountability?
Each month you can schedule a 30-minute mentoring session with Lisa so you can stay on track into June 2021. Set your goals & achieve them with Lisa's guidance &
support. Targeted prompts, journaling
exercises, & art historical references push you to deepen your practice.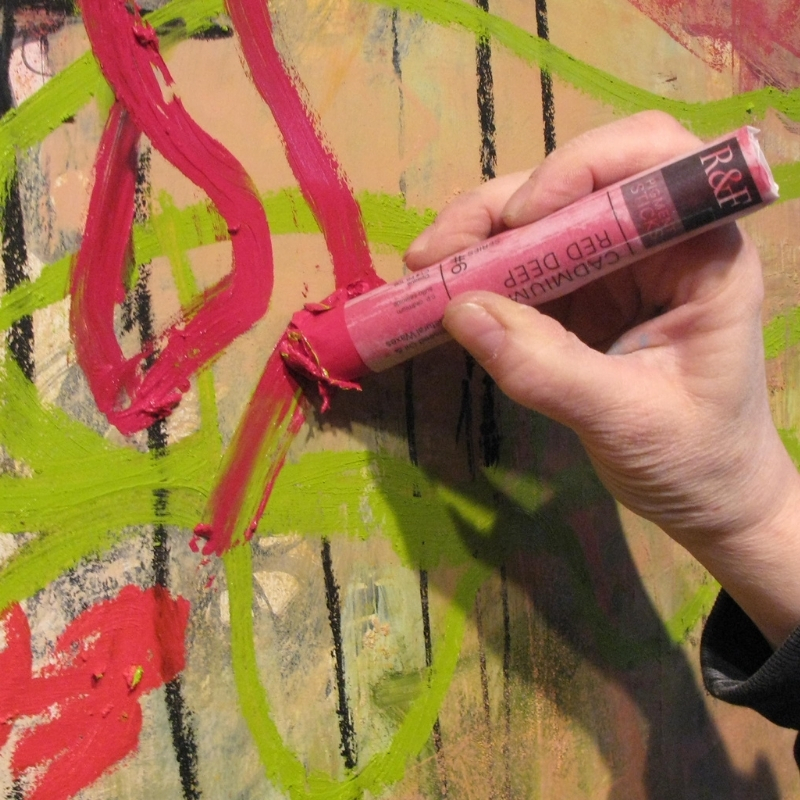 Looking to make progress quickly?
Accelerate your art progress in the first quarter of 2021 by scheduling two 30-minute sessions a month with Lisa. This is for you if you are ready to get into the
studio & work hard. With Lisa's guidance, you will establish clear, focused &
quantifiable goals.
Are you ready to make
big changes with
your art practice?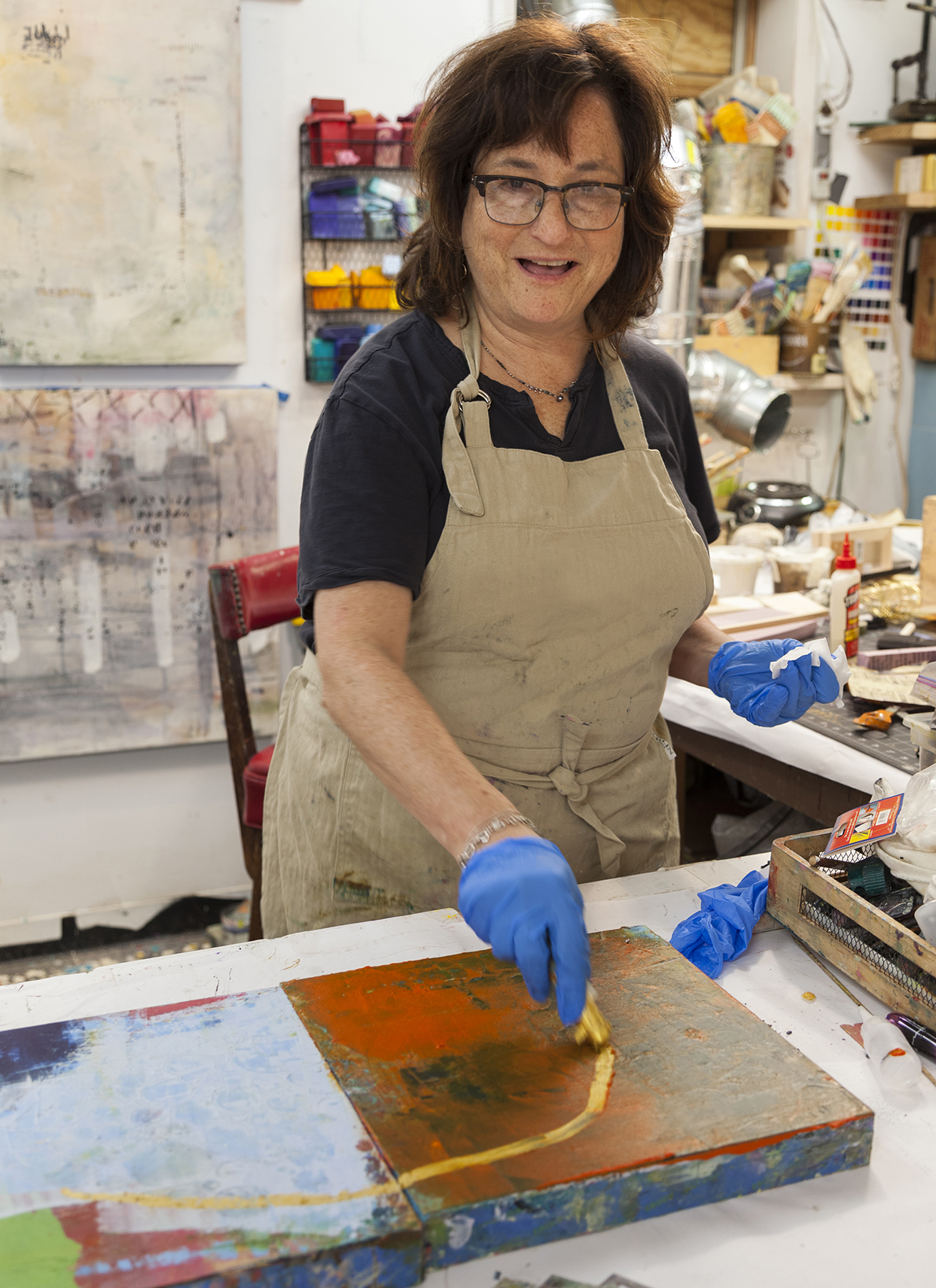 Lisa focuses on what you need & quickly gets you moving forward.


During the recorded Zoom meetings,
together you will explore:
Your work in-progress.
How to "see" your work while learning the vocabulary for self-critique.
How to deal with creative blocks.
How to let go of preciousness.
Goal-setting.
Working in a series.
Prompts to help you approach your work differently.
How best to convey your ideas.
Go deeper with your practice by:
Revisiting the fundamentals of art and design.
Getting accountability.
Getting individualized exercises & challenges to expand your practice.
Exploring art historical references & information.
Understanding the ups & downs of studio life.
Exploring exhibition possibilities.
Applying for artist residencies.
And more...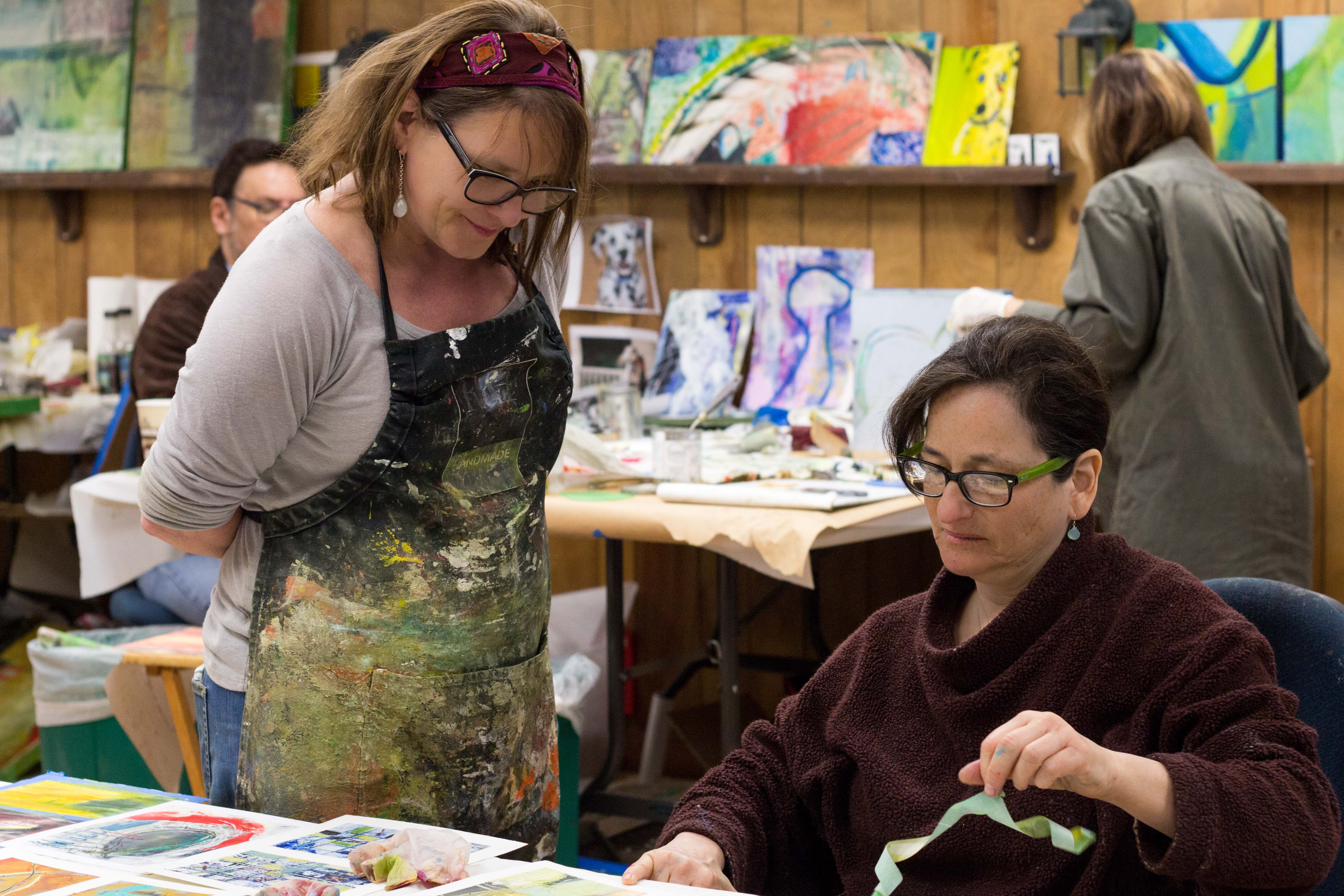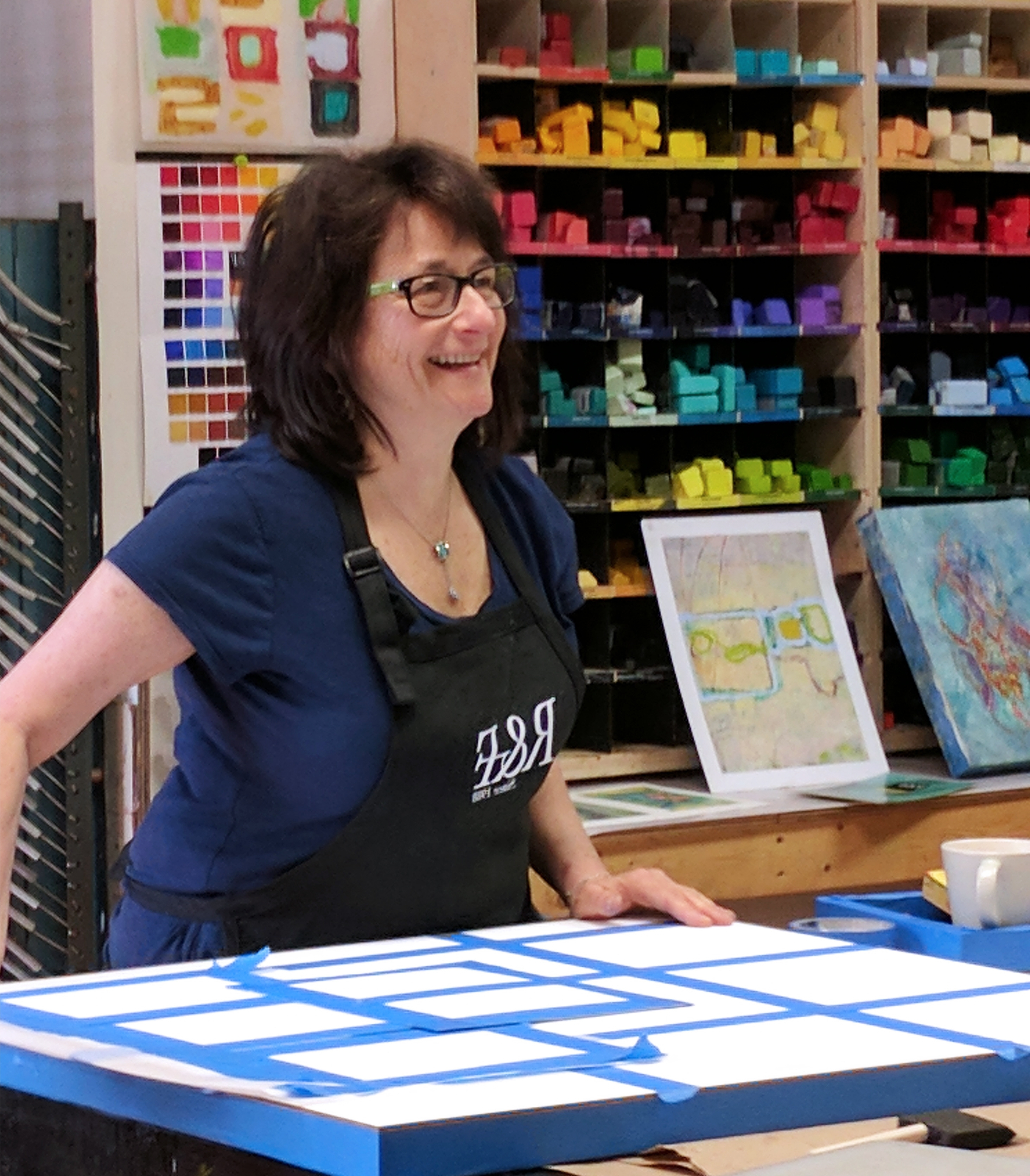 Why mentoring?
Why now?
Working closely with a mentor accelerates your growth and helps you avoid pitfalls and obstacles to your progress.
Take advantage of Lisa's over 35 years of professional experience as an artist and instructor. She understands the daily challenges you face in the studio and gives you strategies to easily overcome them.
Let her guide you in navigating the ins and outs of the art world--curating your website, getting into galleries and shows, and applying for grants and residencies.
Now is the perfect time to make a commitment to achieving your creative goals. Working with a mentor helps you develop a clear plan with focused goals and accountability while getting the necessary support, encouragement, and feedback to keep you going.
What makes an effective mentor?
They focus on where you are at and your work. They honor your style and focus on training your eye not pushing you to emulate their style but helping amplify your voice and your unique vision. 
An effective mentor helps you discover your strengths and pushes you to go beyond what you thought was possible.
More importantly, when working with a mentor you gain confidence while you develop the skills to more effectively evaluate your work.
Lisa's focus is on training your eye, giving you prompts to push beyond what you think is possible, and meeting you where you are at. Her intuitive approach is based on a keen understanding of you and your work. She "sees" you and your work.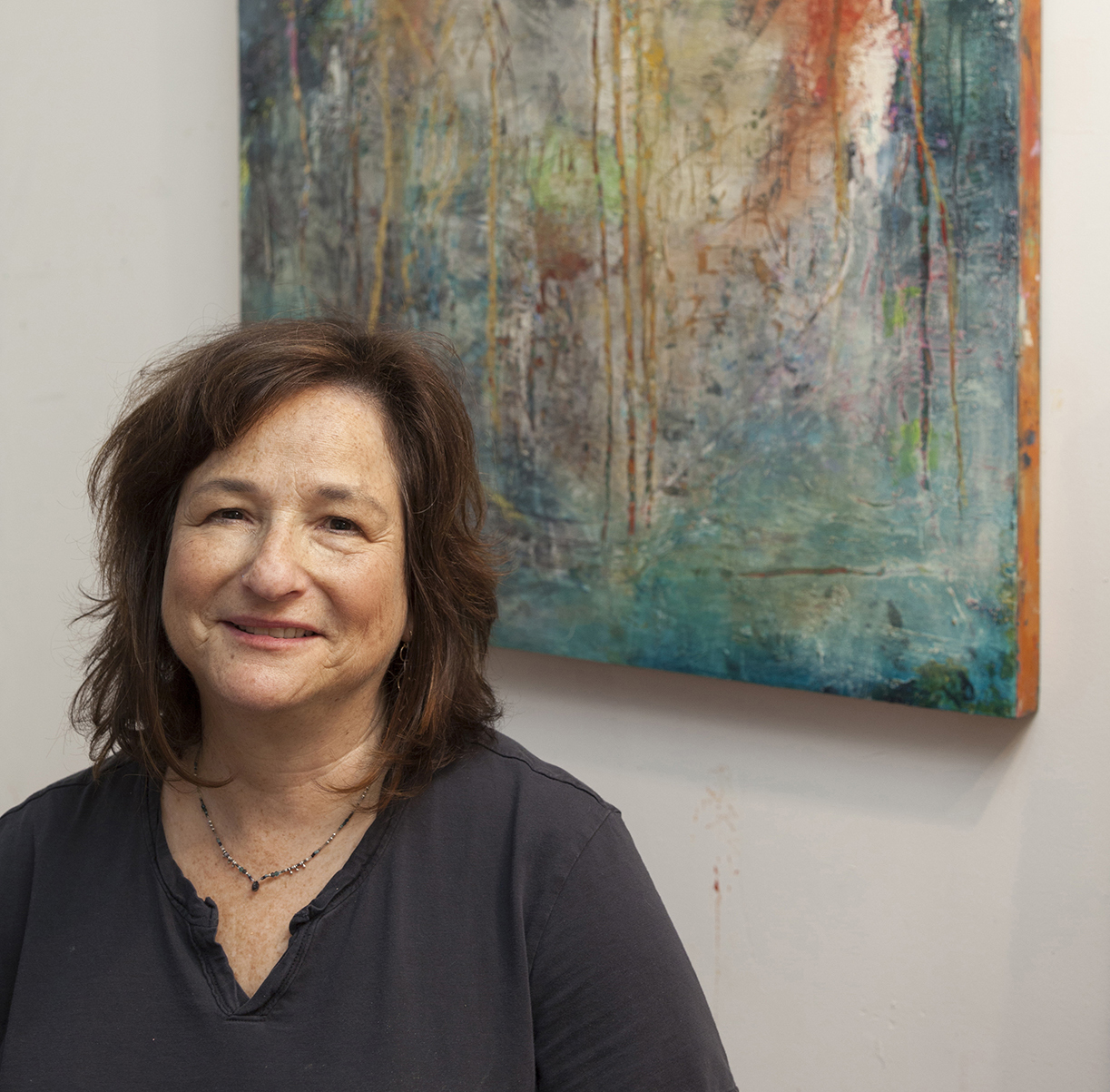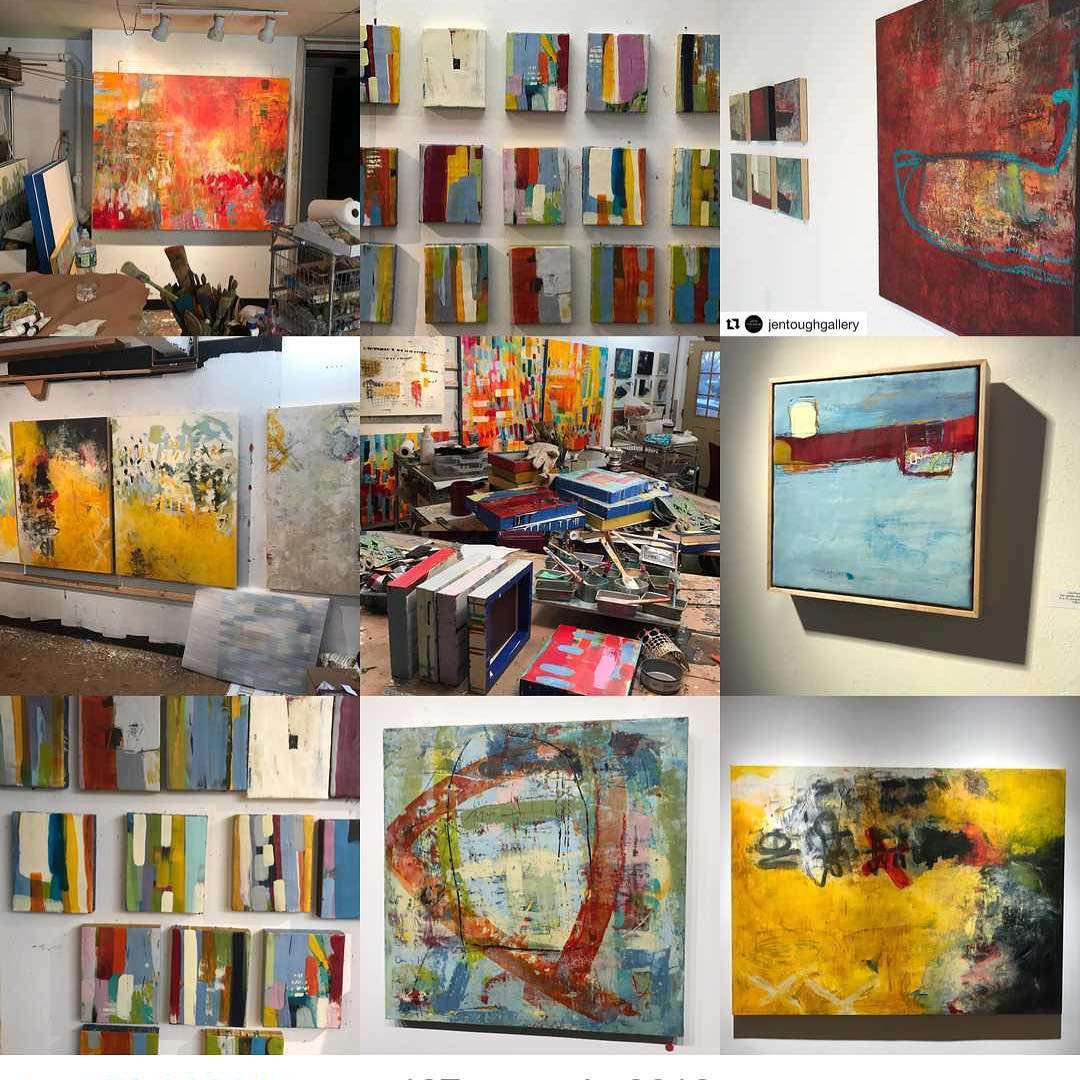 Why is confidence a critical component of growth as an artist?
Gaining greater confidence as an artist results in:
Clarity about what you are doing & why you are doing it.
An understanding of your unique artistic voice--the ability to recognize your creative fingerprint.


Start your mentoring journey today!
Frequently Asked Questions
How would mentoring benefit me?
Once you gain a basic level of technical mastery as an artist, the next step is to go deeper and explore the "why" behind your work--figuring out what inspires you, what motivates your work, and how it fits in a larger art historical context. One-on-one mentoring is a great way to gain insight on your "why". Working closely with a mentor accelerates your growth and helps you avoid pitfalls and obstacles to your progress. Most importantly, working with a mentor helps you gain confidence while you develop the skills to more effectively evaluate your own work. A good mentor focuses on where you are at and your work. They honor your style and focus on training your eye not pushing you to emulate their style but helping amplify your voice and your unique style. My intuitive approach allows me to quickly focus on just what you need to move forward. My strength as a mentor is in finding just the right prompt to get you to approach your work in a new way. Your mentoring sessions will leave you with lots of "aha" moments. An effective mentor helps you discover your strengths, builds your confidence, and pushes you to go beyond what you thought was possible. Take the leap and work with me today.
When is mentoring right for me?
A single 30-minute mentoring sessions is a good complement to a class. You can get feedback on your new work and additional ideas and directions to go further with the course concepts. The Art Intensive Mentoring Program is for when you want more on-going direction and feedback on your work. During the program, I work with you to set goals and focus in on what is most important to move your art practice forward--building a cohesive body of work, developing or updating your website so it best highlights your work, applying to residencies or shows, etc. Having ongoing support, accountability, and feedback helps you stay on track and focused as you achieve your goals. Many students start with an individual 30-minute session and find the experience so productive that they sign up for the Art Intensive Mentoring Program.
How do I schedule my appointment?
Upon purchasing coaching, you'll receive further instructions on how to book a time for your appointment.
Does this coaching package expire?
Your 6 sessions can be booked any time within 6 months of the date of purchase. I want you to get the most out of our time together so I don't want you to lose momentum. Depending on your goals you may choose to book once or twice a month. If you have an emergency that prevents you from booking all your sessions within 6 months of purchase, please reach out to me so we can make a plan.
Can I purchase coaching more than once?
Absolutely! I offer single 30-minute coaching sessions and a 6-pack of 30-minute sessions. Feel free to email me at [email protected] if you aren't sure what is the best fit for you.


Is our session recorded so I can review it later?
All mentoring sessions take place on Zoom. The call is recorded and made available to you asap after our meeting.
Can I get a refund if I'm unhappy with my purchase?
If you are unsatisfied with your coaching, please reach out to us to right away.
While coaching is not covered by Teachable's 30-day student refund policy (as stated in Teachable's Terms of Use), we do want you to be satisfied with your mentoring session. Please contact me at [email protected]
Lisa Pressman draws on over 35 years of professional experience in helping you realize your artistic goals. Lisa's career as an artist has been marked by exploration of the expressive potential of a variety of mediums, among them oil, encaustic, cold wax, and mixed-media collage. Her work is abstract, conceptually based, and process-driven, featuring marks, forms, colors, and patterns that are evocative rather than descriptive.
A highly respected arts educator, Lisa maintains a vigorous teaching program. She's been on the faculty at the former Art Institute of NY, a visiting professor at Pratt Institute and other universities, and has taught workshops in France, Mexico, Italy, and the U.S. 
Especially renowned for her teaching of encaustic and cold wax processes, Lisa is an annual presenter at the International Encaustic Conference in Provincetown, MA. She also is an instructor for R&F Handmade Paints and Gamblin Artists Colors. As a mentor, her focus is on the facilitation of each student's voice − the awareness of the source of what they are doing and why, the medium and visual language with which they can most effectively express their artistic vision.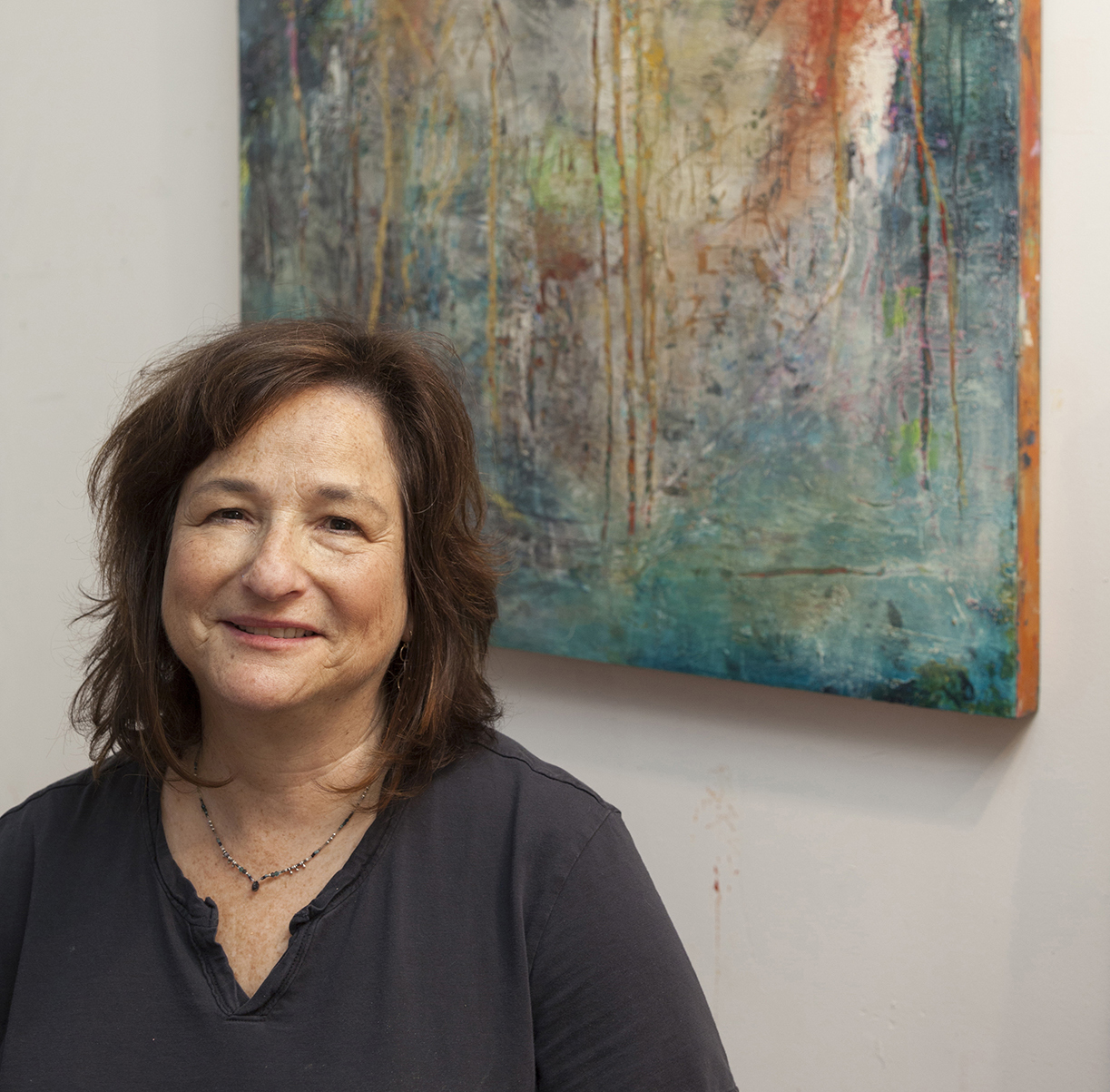 Lisa has an MFA in Painting from Bard College
and a BA in Fine Arts 
(Ceramics and Sculpture) from Douglas College.
She is also recognized as:
 R&F Paints Core Instructor   
Gamblin Workshop Instructor
Ampersand Ambassador
Silver Brush Educator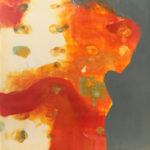 Individualized Attention Adapted For Just what you Need
I have taken several workshops from Lisa Pressman and have always come away with a better understanding of the materials used as well as a fresh sense of where I'm going with my own art making. She is an intuitive instructor, adapting her lessons to meet the needs of her students. Individual attention is one of her strengths. She allows ample time for exploration as we discover new techniques and methods for approaching our work. As a mentor, Lisa has helped me take my studio practice to the next level. Her questions are thought-provoking and individualized; her answers to my questions are honest and reliable. She is a valuable resource whether I'm updating my website, preparing for an art show, or contemplating a new body of work. Her humorous yet straight-forward approach is exactly what I need.
~Julie Snidle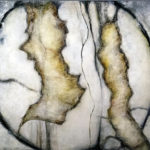 Find Your Voice, Create A New Compelling Body of Work
[I worked with Lisa as] I made the transition from realistic painting to abstract work. Lisa is an incredibly gifted, intelligent artist and a wonderfully skillful teacher/coach. She recognizes and respects each student's individuality, listens carefully to individual needs, has a multitude of ways both to see and to help you see and articulate what you are doing, what you are trying to do, and where you are stuck – and to recommend practices to help you 'un-stick'. She is simultaneously supportive and challenging, not afraid to say 'nope, this doesn't work' – but then offering a wealth of possibilities about where you might take a piece of work. Perhaps her greatest gift as a teacher is her ability to help each student develop their own voice, own way of working, own internal process and relationship with their work. You don't come out of a workshop with Lisa with your work looking like hers; it looks like yours. Plus, she has a great sense of humor and working with her is a lot of fun!
To develop a body of work for an exhibition is a daunting experience. However, with Lisa as a guide and mentor an amazing opportunity was skillfully navigated. Over the course of a year I prepared a fresh body of work in cold wax and encaustic mediums to display on 150 linear feet of gallery wall space. From the first decisions as to the number and configuration of the paintings to the final review, Lisa stood beside me to provide encouragement, critical thinking and focus. Throughout the year, we reviewed, evaluated and applied my skills to this new situation to solve problems and hypothesize/envision new directions; we analyzed the art work as it progressed and deconstructed processes to address the questions of "why" and" how"; we mutually critiqued the artwork so I could ascertain for myself the strengths and weakness of the design, process application and composition; and after the exhibition closed, I was gently assured that my feelings of depression/let-down were normal after 12 months of effort, dedication and concentration. Most importantly, all of Lisa's efforts were executed with kindness, respect and ever thankfully, humor. I so appreciate Lisa's talent as an artist and the background and experience she brings to support my artistic growth. The net result? The most cohesive, compelling, well-received artwork I've ever created.
~Lynn Luukinen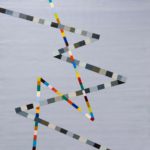 Develop & Refine Your Visual Language
When I was searching for my intent in my work I had Lisa review my work with me which really moved things along quickly. There is nothing worse than wanting to paint but struggling with what you paint as far as your own vision goes and being alone in that process, but Lisa was a brilliant antidote to that problem. She just kept coaxing me along until I came into my own visual vocabulary that made sense and was genuine to who I am as an artist. Lisa is very giving and kind when she works one on one. This was another great investment for me. Lisa's standout feature besides her teaching experience is that she herself is a very successful artist which makes all the difference in how she approaches her students. Its why I chose her in the first place. I think its fair to say I wouldn't be where I am today had it not been for Lisa Pressman. She has played a pivotal role in my studio practice.
~Kathy Cantwell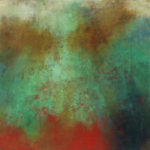 Monumental Growth
[During my mentoring program with Lisa], she helped me pull my art business together and put forth a more professional face to everything. Because of her and other people she has but me in touch with, my business has grown monumentally in a very short time. We also worked on [my painting], but tying up the loose ends of the business side has bee a big boost to my career.
~Joan Geary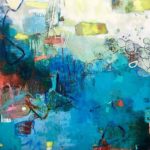 Generous Guidance
Lisa Pressman is an accomplished artist and talented instructor. I've participated in several workshops with Lisa and also in her individual mentoring program. I'm amazed by her ebullient freedom with materials and techniques that I take away from her unique instruction, but also her ability to push me to the next level. She compels me to examine my work and myself as an artist, and has given me the perspective I've needed to strengthen my creative practice and grow as a painter. Lisa's wealth of knowledge, critical eye and generous guidance has shown me my own potential.
~Sue Jachimiec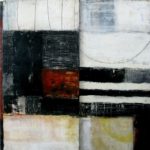 A Wealth of Knowledge
I came to Lisa Pressman with a specific set of goals in mind that I wanted to address in my art and my art career goals and she was a wonderful soundboard and guide. I really appreciated the way that she looked at my work and my goals and helped me hone in on what is essential to my visual voice, as well as pushing me to really think and delve further. Months later, I am still referring to my notes I took during our sessions and our email exchanges. Doing the mentorship with Lisa was like being given a tool box full of resources and reflections that I have taken with me for a long time.
~Bridgette Guerzon Mills