Please join us for this unique in-person class at Jeff Hirst's Chicago studio


Are you looking for a way to add something new to your work or change your way of thinking about making work?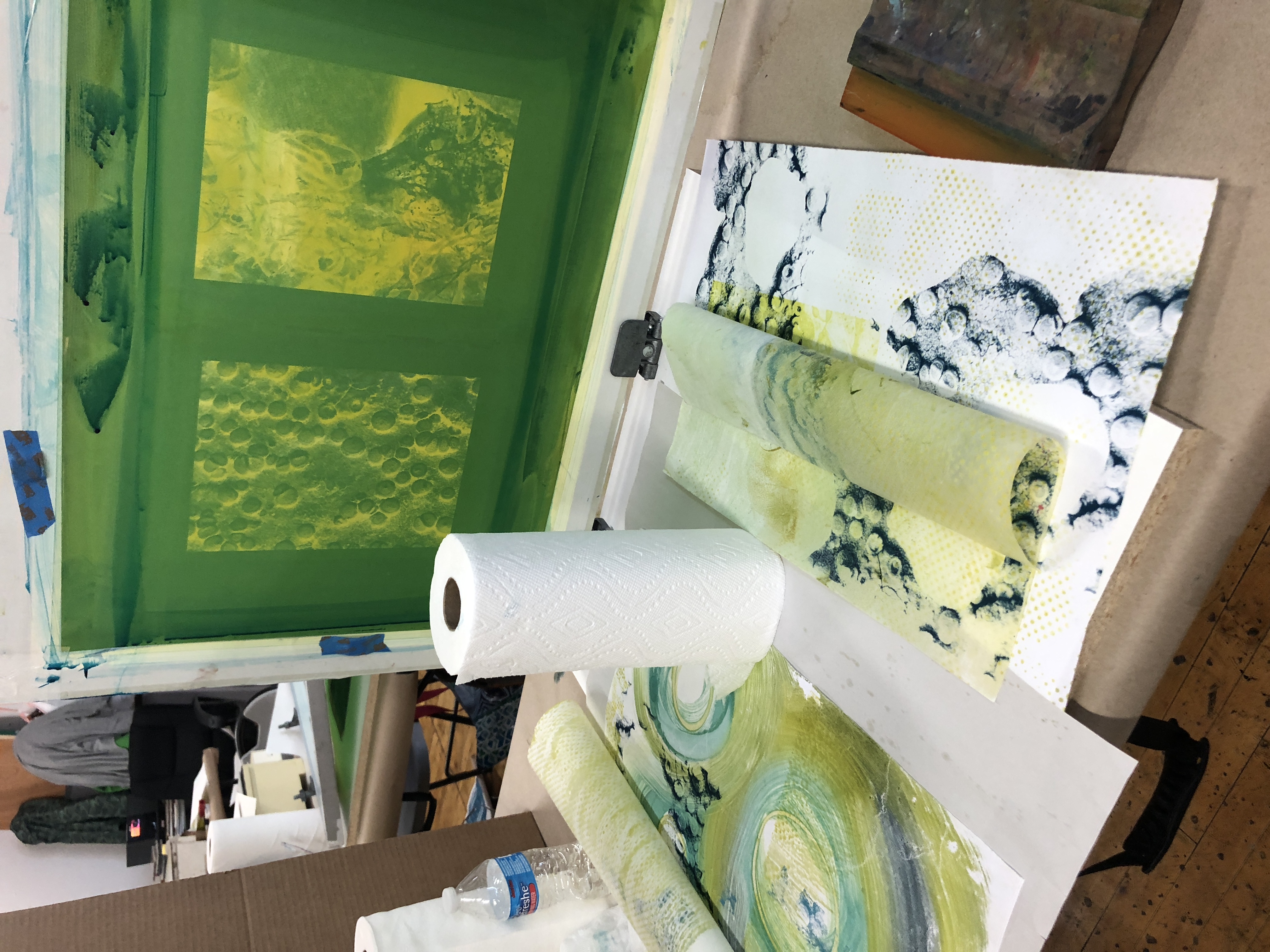 Co-teachers Paula Roland and Jeff Hirst guide the group through fun and informative explorations and collaborations that help us create outside of our habitual ways of working. 
Jeff and Paula are practicing artist-teachers who developed these processes for their own works and are happy to share them with you and guide you to develop your own voice in the mediums.

PRACTICES AND CONCEPTS COVERED:
·      Add enhanced graphic imagery to your visual vocabulary
·      Create works that combine lush and spontaneous encaustic prints and the structure of drawing and silkscreen printing.
·      The technical aspects of creating silkscreens from scratch, and using the Roland HOTbox for encaustic monotypes in a range of approaches.  
·      Introduction of podcasts, books and contemporary print history
·      Reveal and define your voice through unusual juxtapositions
·      Experience group and individual discussions and critiques with two instructors!
We create both individual and group works. Personal attention will be given to each artist and group discussions will respond to the group's work as a whole. We will also address ways that silk screen, monotype, or both can be incorporated into your studio practice back home.

Artist-Students will leave with an armload of finished pieces, new observations and skills, and much inspiration!




What happens when you bring two contrasting print approaches together to create work? How does this alter your perception and change how you think about making work?
Have you ever wanted to geometric concepts with organic imagery?
Paula and Jeff share techniques and approaches they have developed over the years in a live in-person setting.
I believe that creating art is about transforming materials [to] reflect the artist's vision. My teaching approach involves sparking ideas and encouraging risks while creating.
~Jeff Hirst

I believe that teaching is a creative endeavor and I approach teaching as I approach my art.  I devise original ways to use encaustic printmaking to express my own aesthetic and conceptual concerns and expand my students' artistic repertoire.
~Paula Roland ~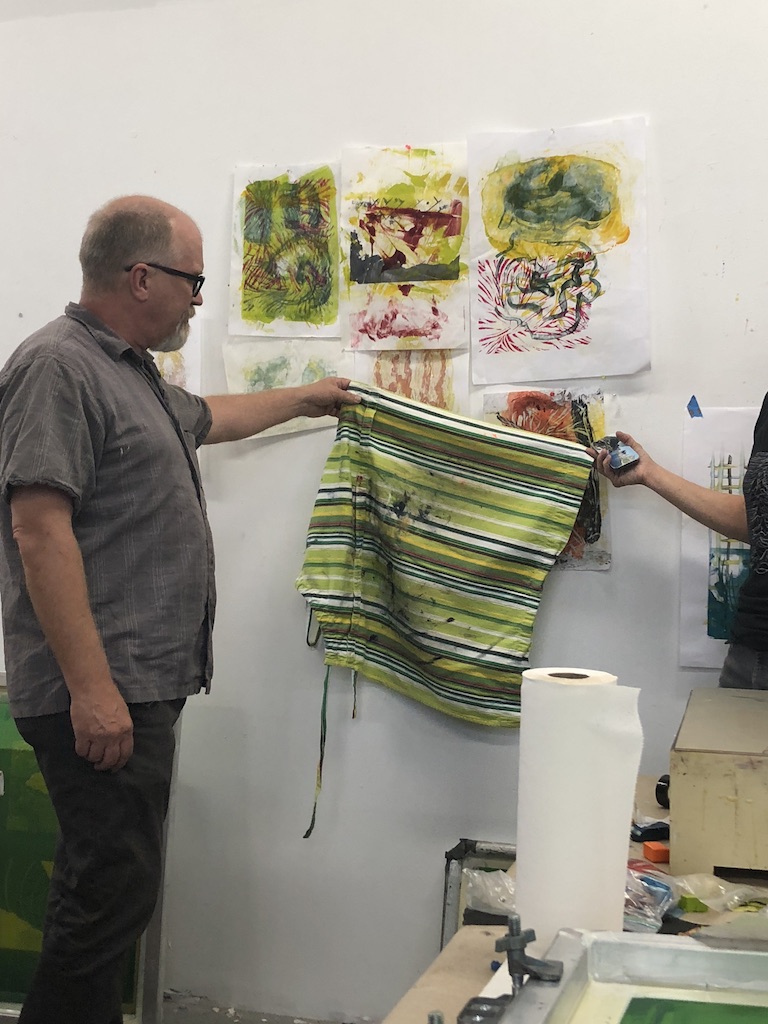 During this class, you will explore:
Composition challenges when mixing disciplines

Learning different ways to work with drypoint, gel monotypes, and linocuts

Unorthodox surface manipulation when combining materials

Class exercises to further inspire and brainstorm possibilities

Further revealing and defining your voice through unusual juxtapositions
While teaching I promote brainstorming, allowing ideas to germinate and develop. When making work, the process is important and finding one's own path during creation is crucial.
~Jeff Hirst ~
When we work on paper, we engage with the image and medium in a direct and intimate way. With encaustic printing, thought and action becomes one, much like improvisational music or dance.
~Paula Roland ~
This course is for you if you:
Want to discover new possibilities with materials you previously had not considered

Are willing to take chances and experiment

Are interested in experimental drawing

Want to be challenged and bring change to your work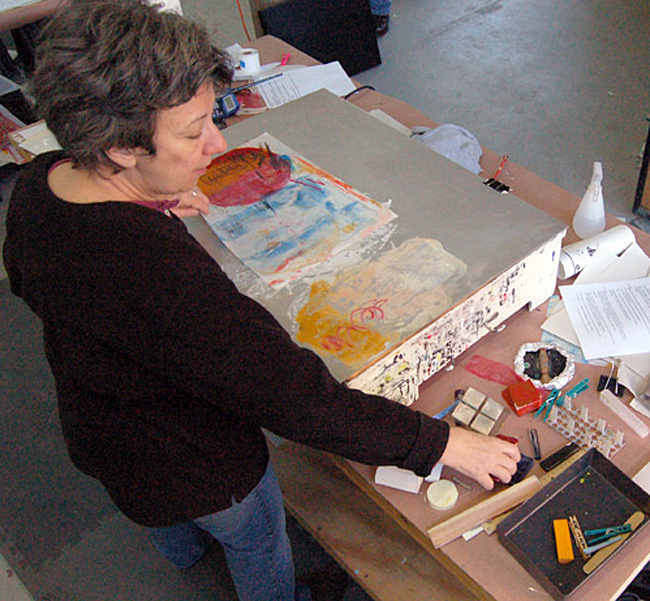 Take advantage of this class & redefine your work!
Learn how to combine these processes to develop unique
imagery. Live sessions take the material further as you focus on refining your artistic voice.
Take advantage of this live in-person class in Chicago!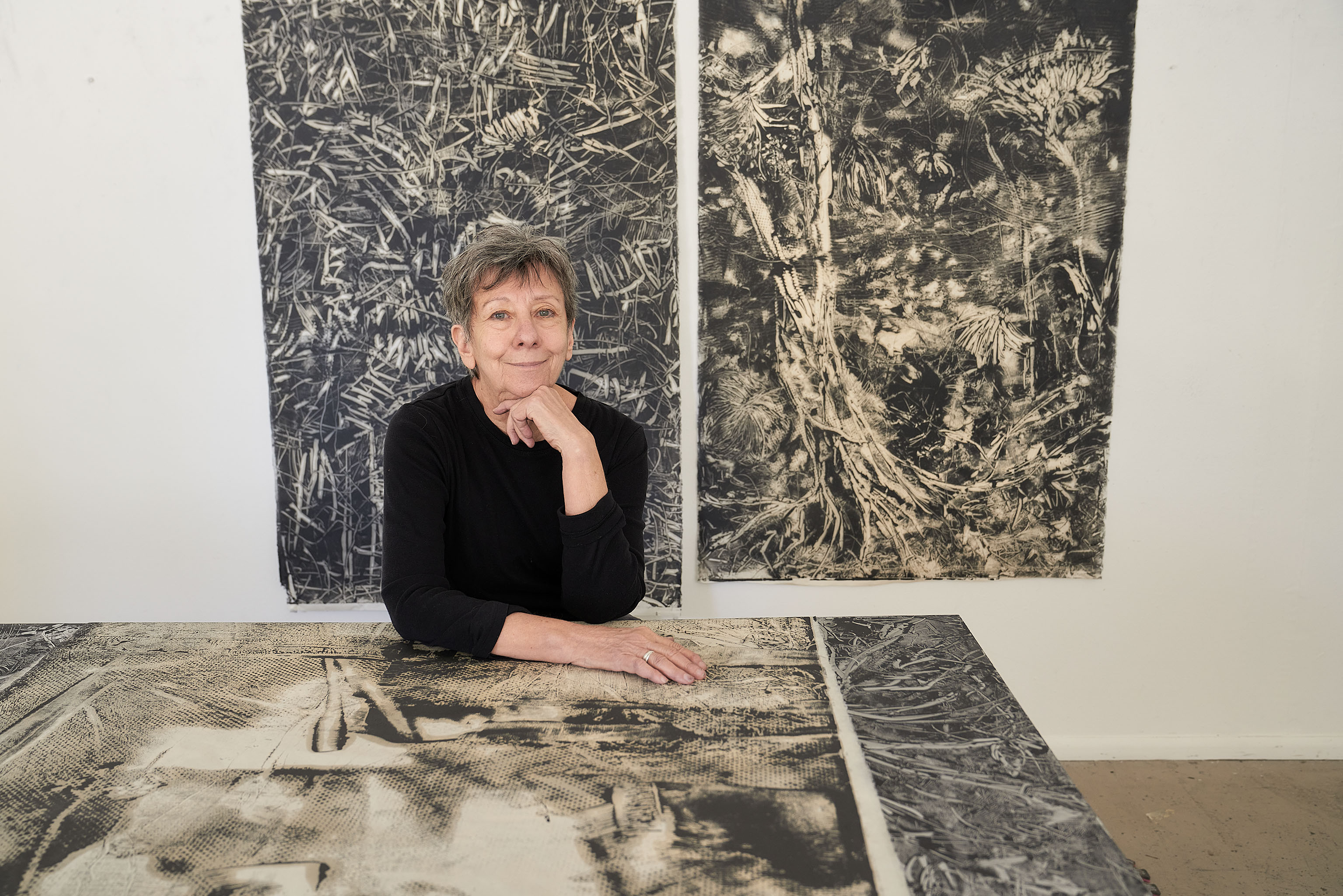 Paula Roland draws on over 35 years of professional experience in helping you realize your artistic goals. Paula began her journey with encaustic monotypes in the late 1990s, quickly becoming the "go-to" expert in this medium. Through her art, teaching and creation of the Roland HOTbox, she elevated the international profile of encaustic monotypes. For over 25 years, she has been a leading practitioner and instructor of encaustic on paper and panel.


With experience in curriculum development, college teaching, museum education, Paula extended the process to include large scale monotypes and scrolls up to 35' in length; installations and translucent back-lit paper works; mixed mediums and monotypes; heated drawing; video projection on prints , and more.


Roland has an MFA in Painting and Sculpture from the University of New Orleans, a BA from Dominican College, and Grad level education courses from Louisiana State University.


FAQ:
Q: Do we need experience creating encaustic monotypes or silkscreen prints?
A: No, we are going to be exploring new territories and combining media in ways that has not been done in previous classes. While experience with encaustic monotype or silkscreening is welcome it is not required.
Q: Do you encourage spontaneity and taking chances in the class?
A: Yes, the class is all about taking what you know and building upon your knowledge. We have small exercises built into the class that promote intuitive thinking.
 Q: Do we have live reviews of the work during the class?
A: Yes, Paula and Jeff will have several large reviews of work as well as much one-to-one feedback on your work. We want to help you take what you learn in the class and take the ideas, concepts, and approaches back to your studio to make further discoveries with your work.
Q: Do you have a list of accommodations close to the Chicago studio?
A: Yes, we have a long list of many accommodations near the studio along with many fun places for dinners. Often the class goes out for dinner at a nearby Chicago restaurant.
Q: I have more questions. How do I reach you?
A: You can email Jeff at [email protected].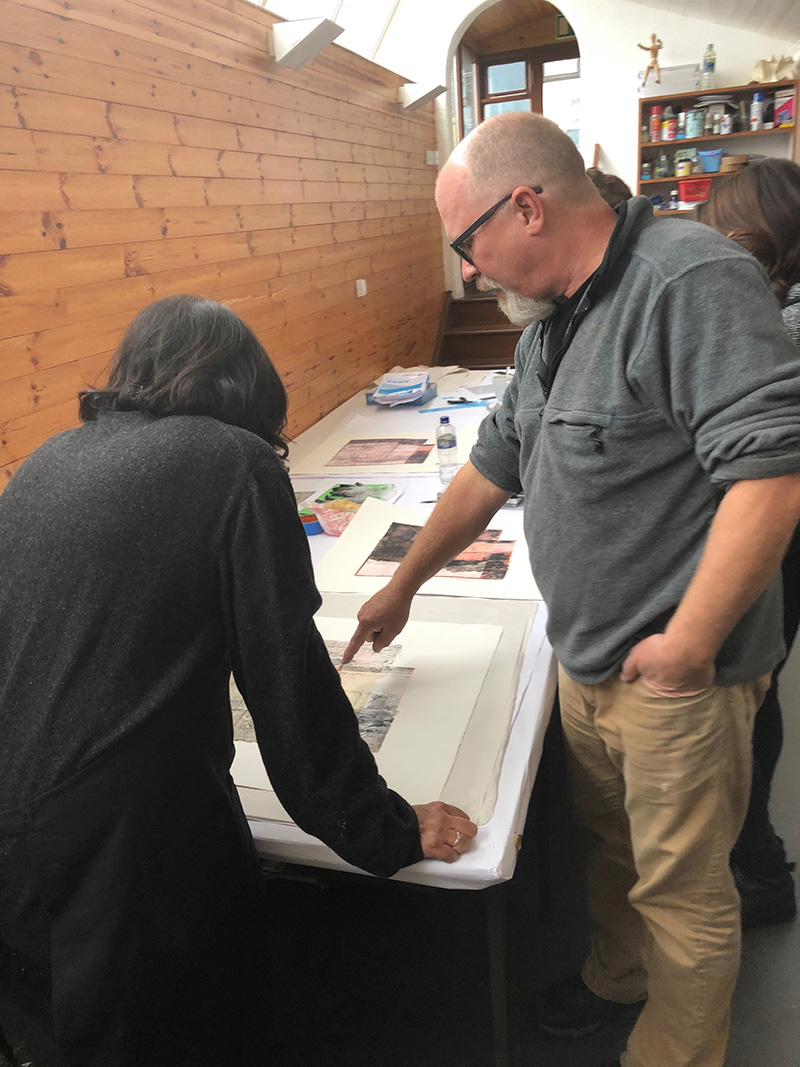 Jeff Hirst draws on over 35 years of professional experience in helping you realize your artistic goals. With an MFA in painting and printmaking from Louisiana State University, he seamlessly moves between various mediums. In his work and teaching, Jeff explores the intersection of printmaking techniques, painting, and sculpture, the place where he believes magic happens.


Jeff pioneered the process of combining silkscreen and encaustic painting in 2005 and remains the only resource for learning this technique.

He is always thinking outside of the box combining high and low-tech solutions in executing his work. You will find his perspective opens up new ways of seeing your practice and approaching your work and is ideal for mixed-media artists. He is also recognized as an R & F Handmade Paint Core Instructor and a Silver Brush Educator.






"Paula's demos in the class were packed with explanations and a wonderful depth of knowledge she was always willing to share. She spent time with each of us, helping us develop our own work, while encouraging further exploration. "


Jeff Hirst is one of my favorite teachers! His love of the work comes out in the enthusiasm he shows for the work of his students, and his patience helps us through the rough patches when we want to be as good as he is. His unique combination of artistic and teacher skills make classes a joy to participate in. I always look forward to spending two days with Jeff. 

Jeff is an accomplished and talented artist who shares his knowledge and techniques with such enthusiasm that it is contagious. Each class presented a new challenge that included suggestions to combine methods from previous lessons. With Jeff, I was introduced to monoprint, intaglio, collagraph, and screenprinting. And more! I observed firsthand how a creative artist pushes the limits and experiments in a fun and safe way!

"Paula..Thank you for another outstanding workshop. Both your art and teaching continue to be a tremendous inspiration to me. You have such a breath of knowledge and it is such a gift to be able to learn from you.
I appreciate all of the planning and work that you put into the execution of your workshops. I had a great time and learned a lot."
~Tracy K.

"I have taken several workshops with Paula over the years, each of which was very worthwhile. She is a talented artist and instructor. I always come away with useful techniques, renewed enthusiasm and new ideas. I admired her hand-dipped paper pieces, so I signed up for her workshop in 3D dipping and hand-dipped papers shortly before COVID. This was a unique way to work, and I highly recommend it."


Jeff..I appreciate how your class was accessible to beginners as well as advanced printmakers. You welcome all levels and anyone can improve and expand their artistic language from your teachings. I think our students were at various levels and I could see that it wasn't boring for advanced students as well as not overwhelming for beginners. And thank you for your friendly, patient, and generous attitude and making the class fun. There was a good vibe and we learned a ton! Your printmaking workshop was a creatively magical experience and I was so sad to see it end. I hope you enjoyed your time in Cullowhee and hope you come back!