With monotypes,
the encaustic becomes one with the paper, making them easy to handle,
ship and store!
They may even be rolled!

Encaustic is applied
to the heated plate where it can be manipulated with tools and transferred to paper by the
gentle pressure of the hand.

NO PRESS is used!
While the Roland HOTbox is the very best tool for encaustic prints, Paula can suggest a low cost alternative if needed.
THIS CLASS IS FULL
Please scroll down to join the waitlist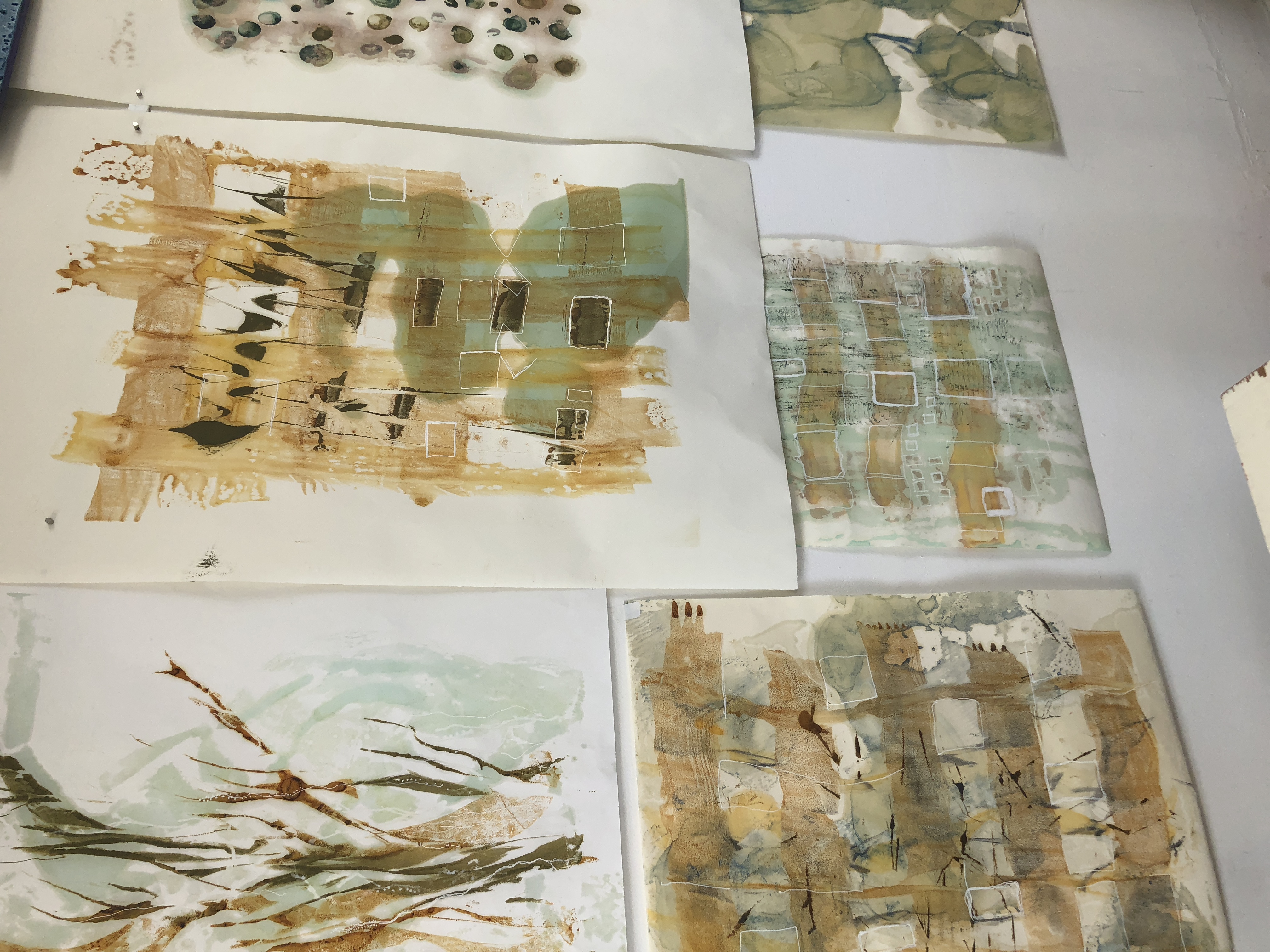 The encaustic monotype is an intuitive, immediate, and freeing process.
Create an armload of prints and be fully inspired and confident to continue on your own

Develop and refine compositions and your intentions for the work

Learn three ways to mount prints to boards; discuss presentation and framing options

Generate scores of ideas for all of your work
HOW DOES THIS CLASS WORK?
PRE-class, watch and practice the video lessons that teach the basics.


MEET live on Zoom for the five, 2-hour sessions with Paula. These extend the video learning with advanced skills and concepts. Class sessions are recorded for you to easily review.
BONUS! Three live group Q&A sessions to be sure you are on track! Days and times are to be determined.
This course is for you if:
You want to free-up your art practice
You are an adventurous beginner, skilled artist, or anywhere in between
You've tried encaustic printing but you want a refresher and more skills to grow your practice.
You already own Paula's DVD but you have not met your goals or tapped your potential with this process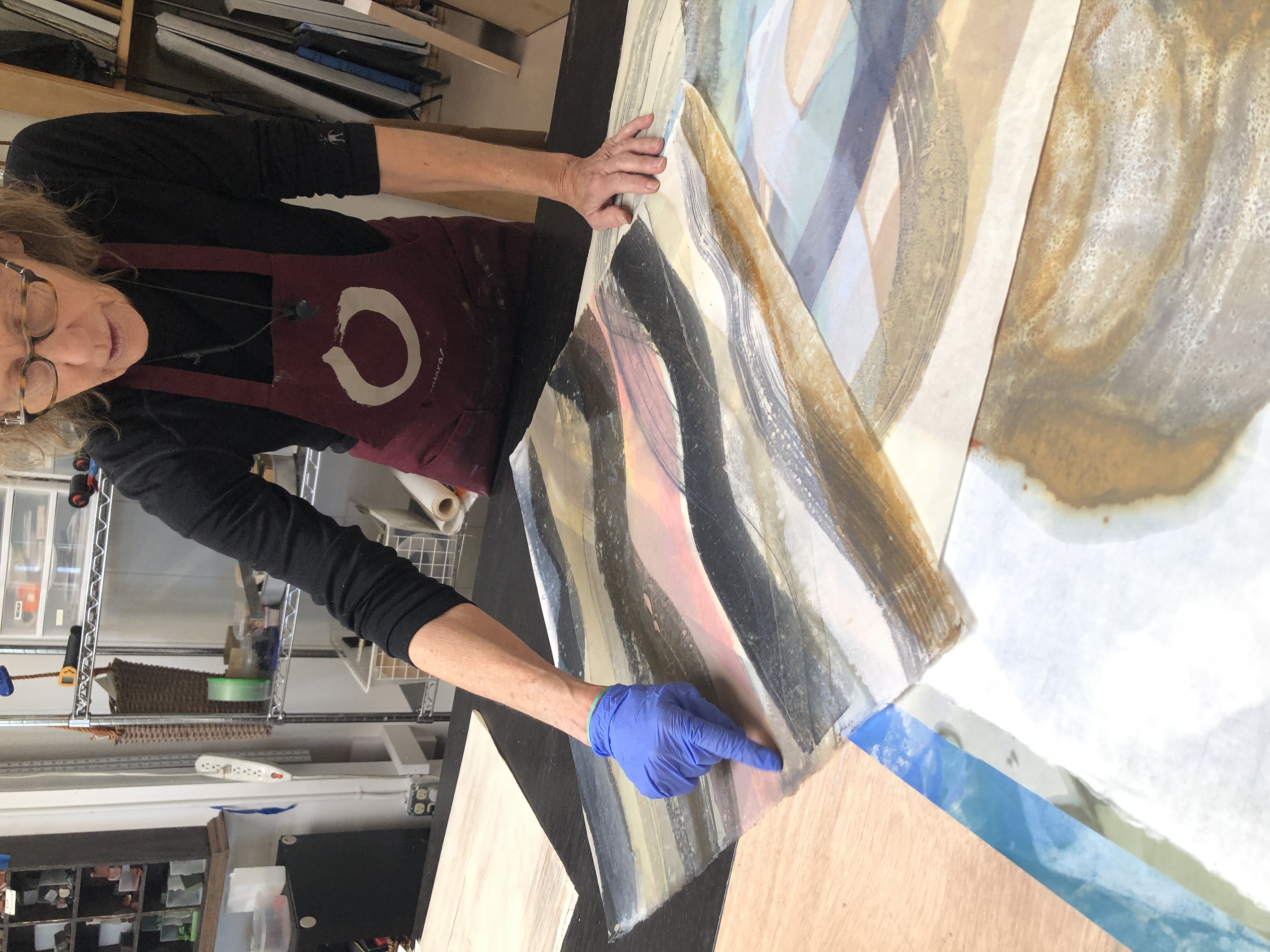 This process is nothing like any other printmaking or encaustic painting!
No Prior experience with encaustic or printmaking is needed!


NO PRESS IS USED!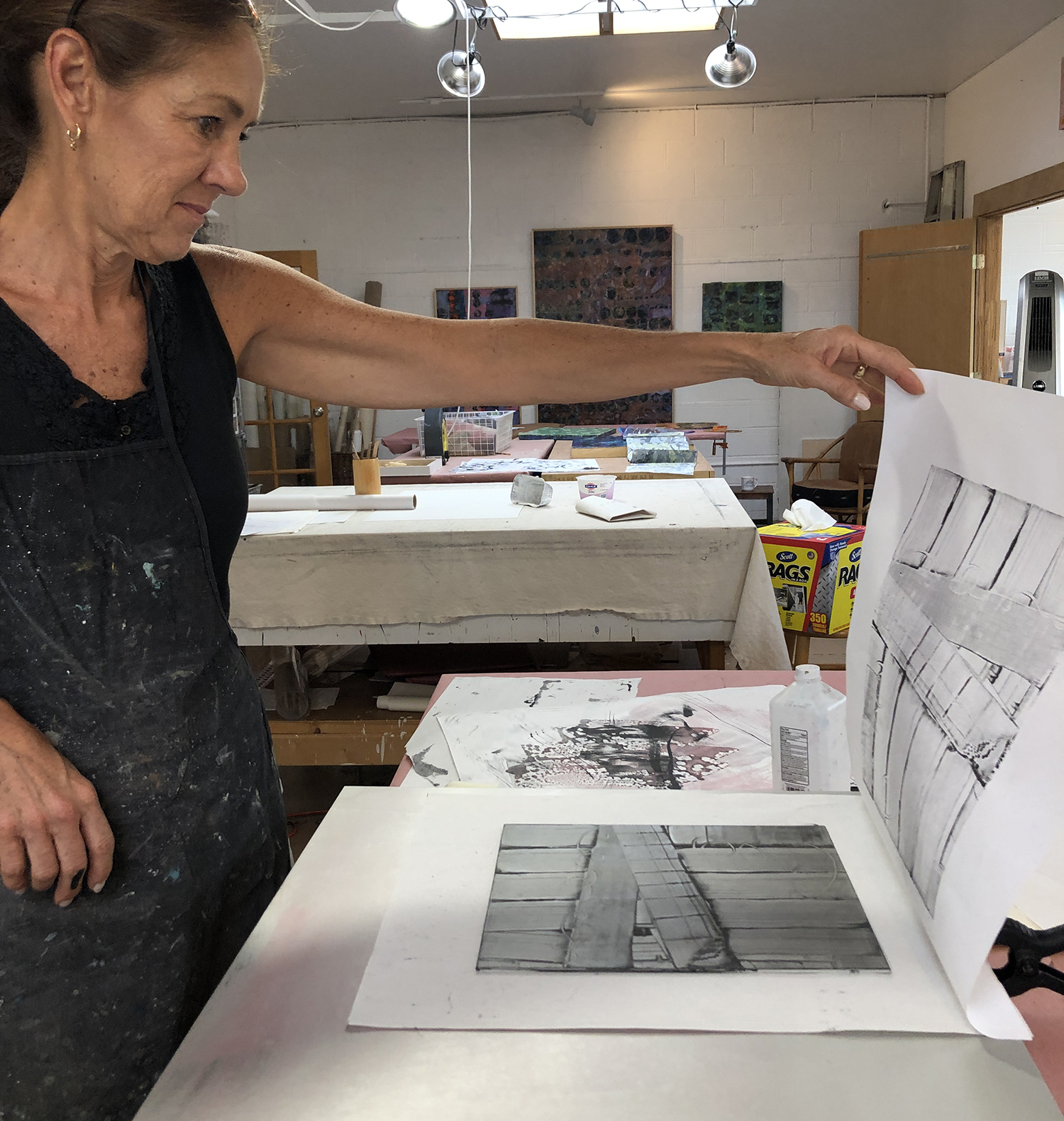 Why take this course? With so many variables, this "easy" process is not so easy.
Learn and advance more quickly by taking advantage of Paula's 25 years of teaching and working with encaustic monotypes. Paula developed many of the techniques herself, for her own work and for students. She can guide you to incorporate the process with an existing body of work and with your studio practice.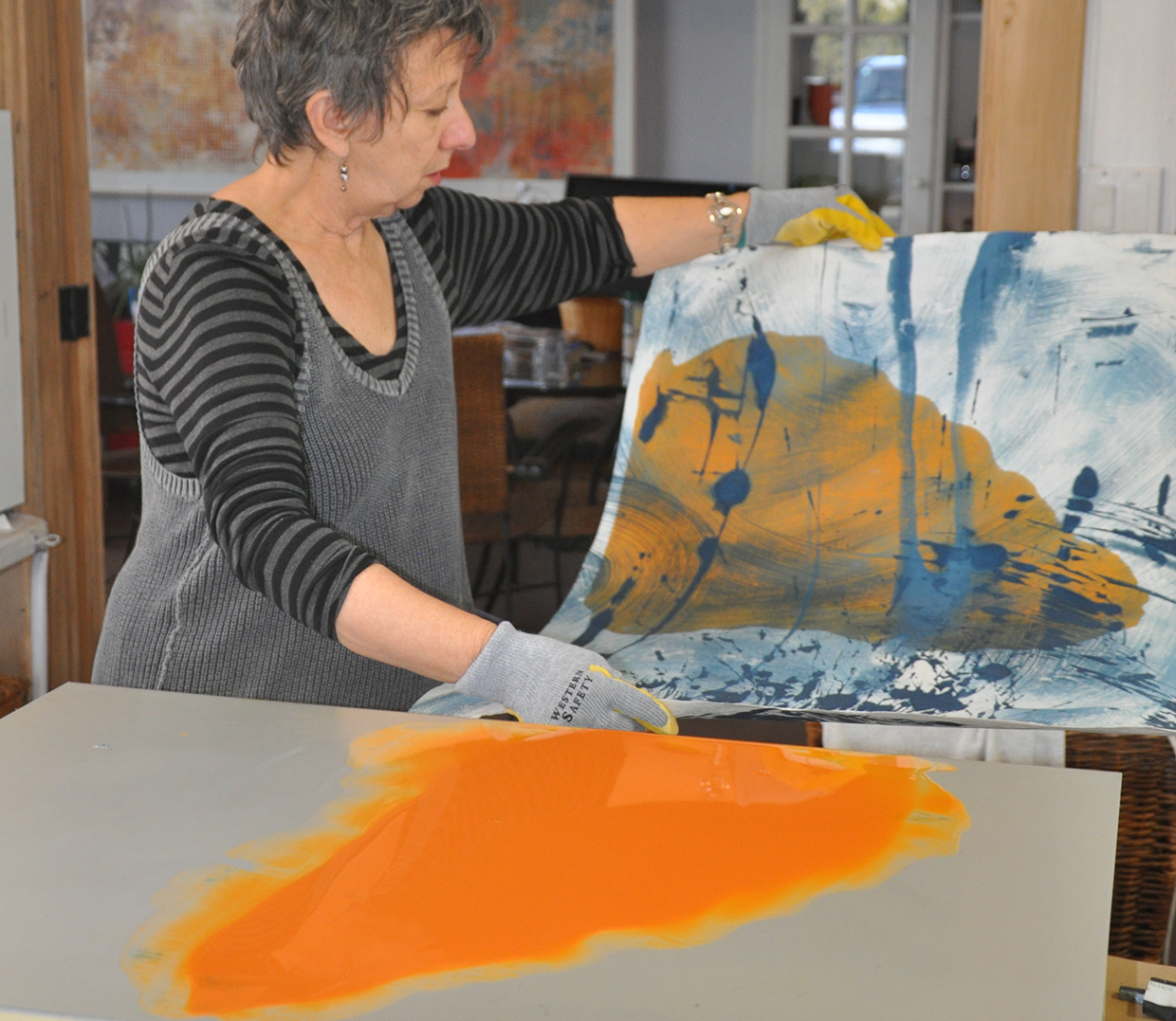 Why add Encaustic Monotype to my practice?
No experience with encaustic or printmaking is required!
Monotypes are spontaneous and freeing—numerous pieces may be created without a large investment in materials or time.
The fluid and freeing nature of wax tends toward abstraction and serendipitous magical discoveries.
A body of work on paper is an excellent addition to your practice--they are spontaneous and easy to ship, handle, and store.
Encaustic printmaking does not use solvents or a press!
Encaustic prints may be graphic or consist of richly layered surfaces of depth, translucency and blended color.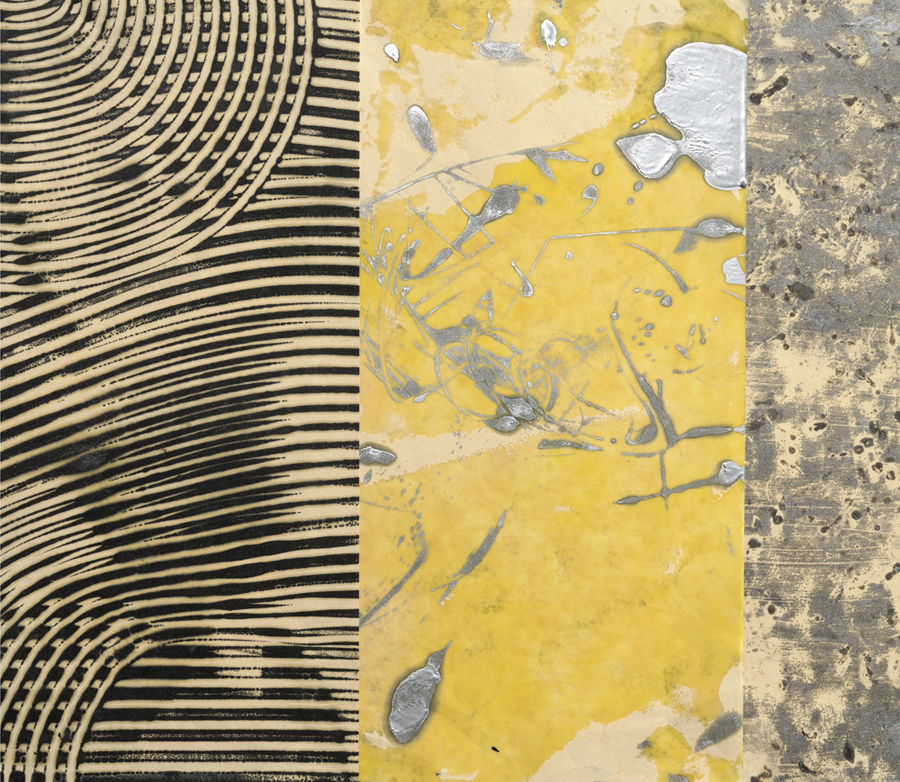 Example Title
Wait, there's more!
120 minutes of video demonstrations with lifetime access!
5 live 2-hour online instructional meetings with Q&A, demos, and advanced techniques.
A week-by-week written study guide and other handouts

(yours to keep). These will

help keep you on track during the week.
3 months access to the recordings of the live sessions and the course curriculum.
A resource guide for where to get the best materials and supplies.
Limited to 20 participants with an option to add personal coaching from Paula.
Paula is a guide to juggling the variables—heat, paper types, pigment types, wax/ pigment concentration, and more.


Once the intrinsic nature of the process is understood, you may add mixed media such as drawing media, collage, cold wax, and watercolor. You may work in other formats such as scrolls, print installations, and mounted prints (with or without added encaustic paint).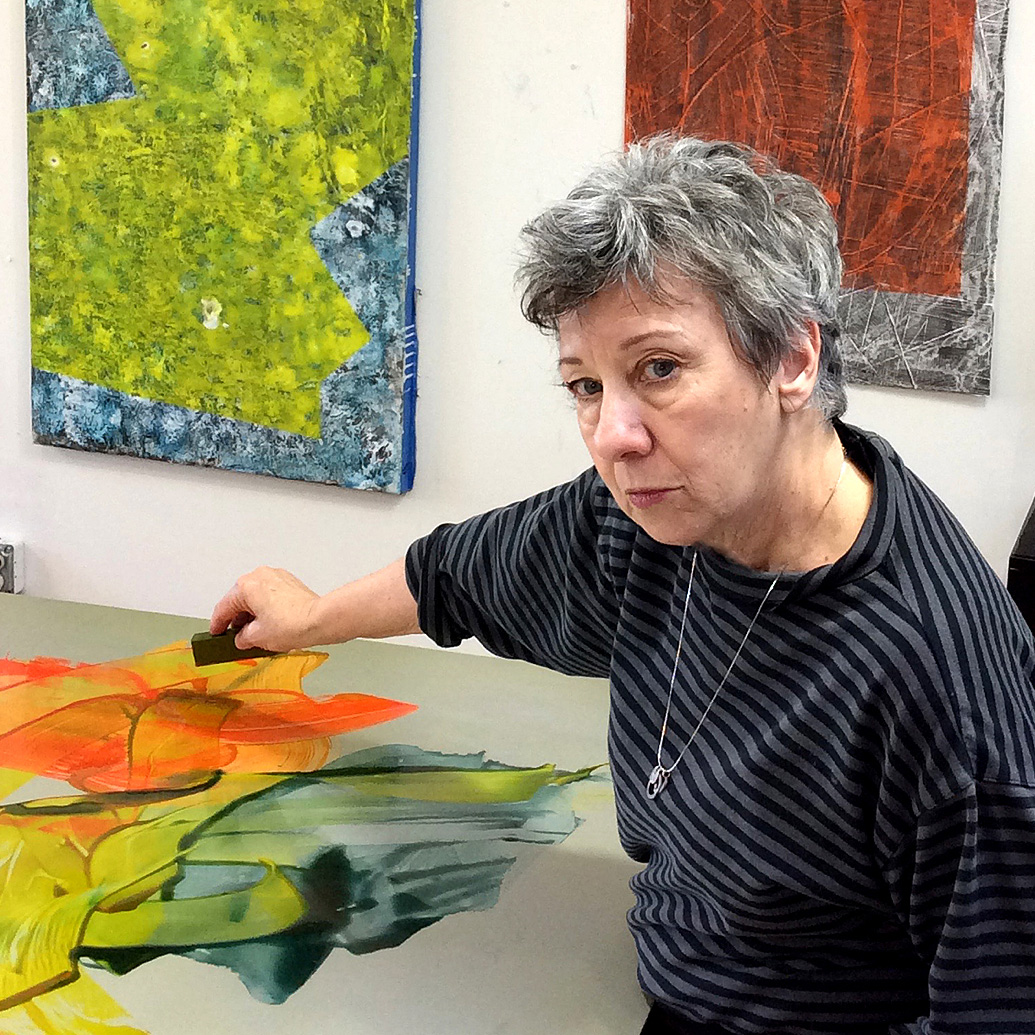 ABOUT PAULA
Paula Roland draws on over 35 years of professional experience in helping you realize your artistic goals. Paula began her journey with encaustic monotypes in the late 1990s, quickly becoming the "go-to" expert in this medium. Through her art, teaching and creation of the Roland HOTbox, she elevated the international profile of encaustic monotypes. For over 25 years, she has been a leading practitioner and instructor of encaustic on paper and panel. Paula exhibits and teaches encaustic painting as well as monotypes.
Roland's teaching experience includes teaching and curriculum development in colleges, museum education, and at nearly every level of art education.
Paula's interest in broadening the scope of encaustic printmaking extended the process to include large scale monotypes and scrolls up to 35' in length; installation and translucent back-lit paper works; mixed mediums and monotypes; heated drawing; video projection on prints; and prints layered with encaustic or collage.
Paula Roland has an MFA in Painting and Sculpture from the University of New Orleans, a BA from Dominican College, and Grad level education courses from Louisiana State University.
Don't miss out on this class.
Paula creates a supportive and encouraging place to explore and get outside your comfort zone while giving you gentle and insightful feedback that helps you know what you need to do to achieve your artistic goals.

"Paula Roland's DVD, Encaustic Monotypes: Painterly Prints with Heat and Wax, (Studio Galli Films, 2010) is the video source for printing with wax. The title, which strategically places "painterly" before the "wax," tells you what you need to know about the artist's priorities. Roland, who studied with Dorothy Furlong Gardner, has been the contemporary impetus behind the encaustic monotype movement. Through her work, she is a role model for what is possible creatively in the medium."

"Paula Roland teaches a most comprehensive encaustic monotype class in her enormous Santa Fe studio. The Intro class is well beyond an introduction, covering extensive variables in the process--beyond even her excellent DVD. While assuring that students leave with solid working knowledge and a very wide range of means and methods, Paula helps artists move their art forward as only this incredible teacher and the Roland HotBox™ allow."

"I'm thrilled to have the Pro box units here and they arrived in superb condition due to the great packaging. FedEx delivered in the morning and I got everything set up in just about 1/2 hour so was able to start playing around.  I'm a long way away from 10,000 hours doing monotypes :) but I'm having fun and learning lots with each monotype.  It's great!  I began today's session by taking a finished encaustic painting and using the hotbox unit to melt off the globs of wax on the taped sides.  I was able to then use that wax to start my monotypes.  It's cool to know no wax needs to be wasted anymore!"
"The workshops were more than I could have imagined. Great teaching. You got me over some problems that you had no idea were there—me either for that matter—It was a great experience. I would do it again and probably will! Thank you."
"Paper, pigment and heat have become my new mantra. Your workshop is transformative and a revelation for any artist looking to inject new life into their practice. You cover so much, and are truly inspiring, but it is your supportive energy, keen eye, and guiding artistic spirit that really makes your workshop soar."

"As an artist already familiar with encaustic painting, I came to your workshops with very high expectations and the specific goal of learning the process of encaustic printmaking. I believe that when you expect the best, you get the best. Your workshops did not disappoint me…your approach coupled with your organizational skills and artistic excellence produced two workshops at the highest level."