Dipped in Wax is a Self-Directed class, with approximately two hours of videos that you may now access without a time limit!
To help you along, I will periodically add Zoom meetings to answer any questions (two per year) you may have about the videos.
Zooms 2023
September 20- Q & A, 2 PM CST
November 15- Q & A, 2 PM CST
Zooms 2024, To Be Announced
NOTE: If you purchased the Dipped in Wax video prior to Sept. 13, 2023 I have sent you an email with a way to access the video, even though it had a time limit when you purchased!
I will also send you a Zoom link as well for the Q&A sessions I've added.
If you have not received the email, please contact me at [email protected]
This self-directed class no longer has a time limit!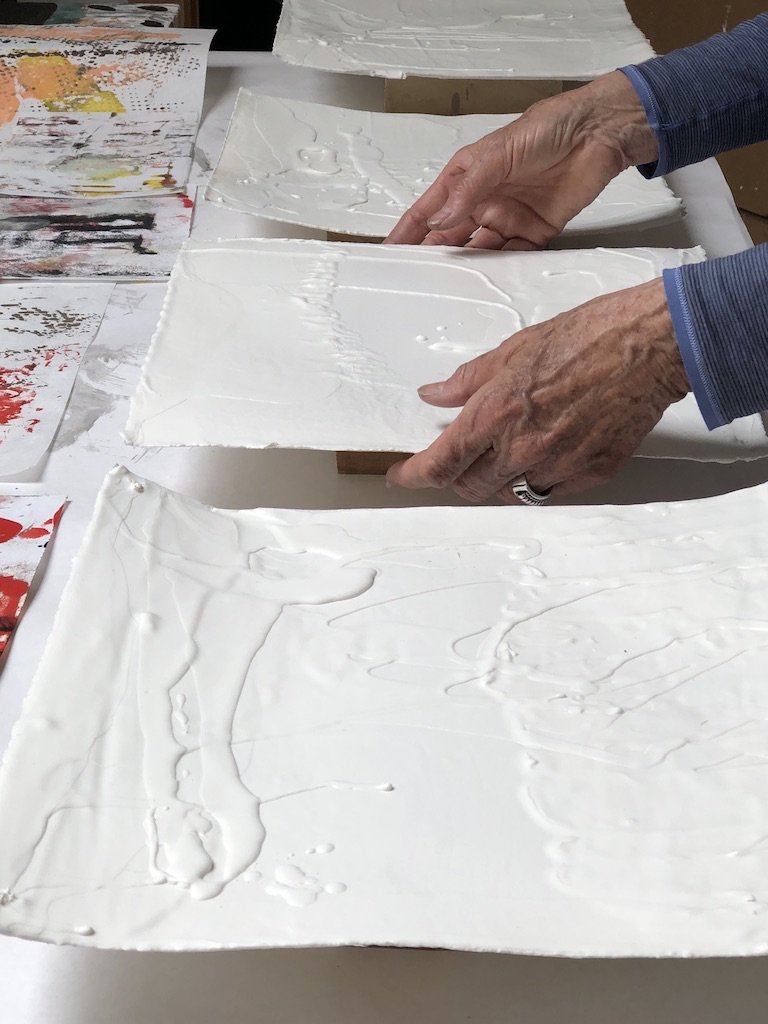 Submerging paper sheets in plain or pigmented encaustic builds up surface and strength.


Dipped substrates are excellent for use with most all encaustic painting techniques, including:
incising, transfers, glazing, oil paint sticks, and carbon-based media (graphite and ink as taught by Paula in her Carbon Lab course) and more.
Heavy paper
Becomes rigid, opaque, and object-like when dipped multiple times.
Edges are beautifully organic and irregular.
Sturdy pieces may be cut, shaped and joined to create 3D works or joined with other methods of 3D encaustic work.
Thin paper
Becomes translucent and the paper remains flexible when submerged in plain oar lighhtly pigmentd beeswax medium.
Transparent sheets may be used to overlay other works with layers revealed.
Lightly dipped sheets may be folded/creased, stitched, rolled and used to create book arts and more.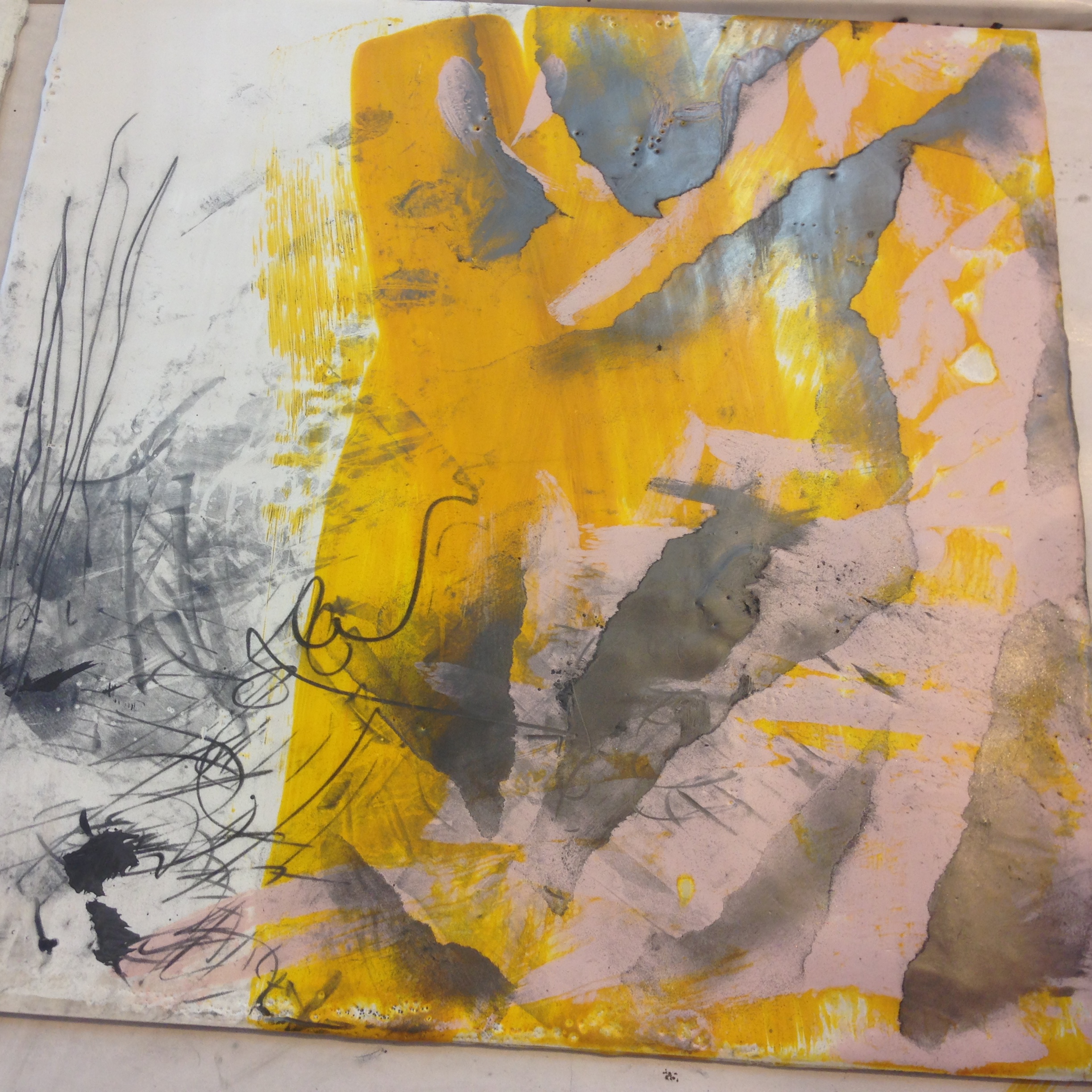 Substrates and Surfaces
Most encaustic techniques may be used, including painting, incising, glazing, transfers, oil paint sticks, and carbon-based ink and graphite (as in Paula's Carbon Lab).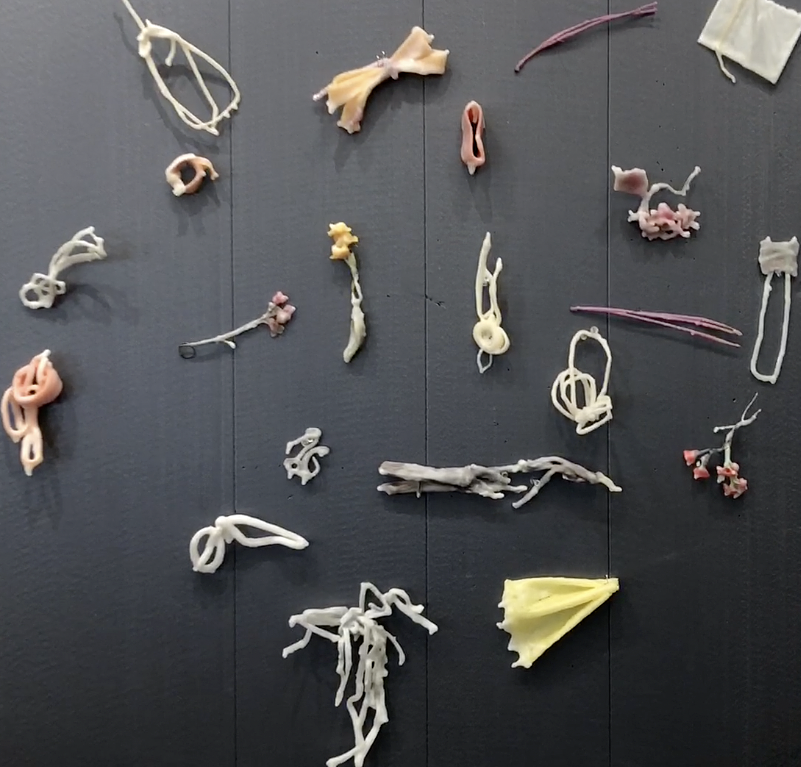 Transform Objects
Found or constructed objects dipped in wax can be part of an installation or presented as stand-alone sculptural forms.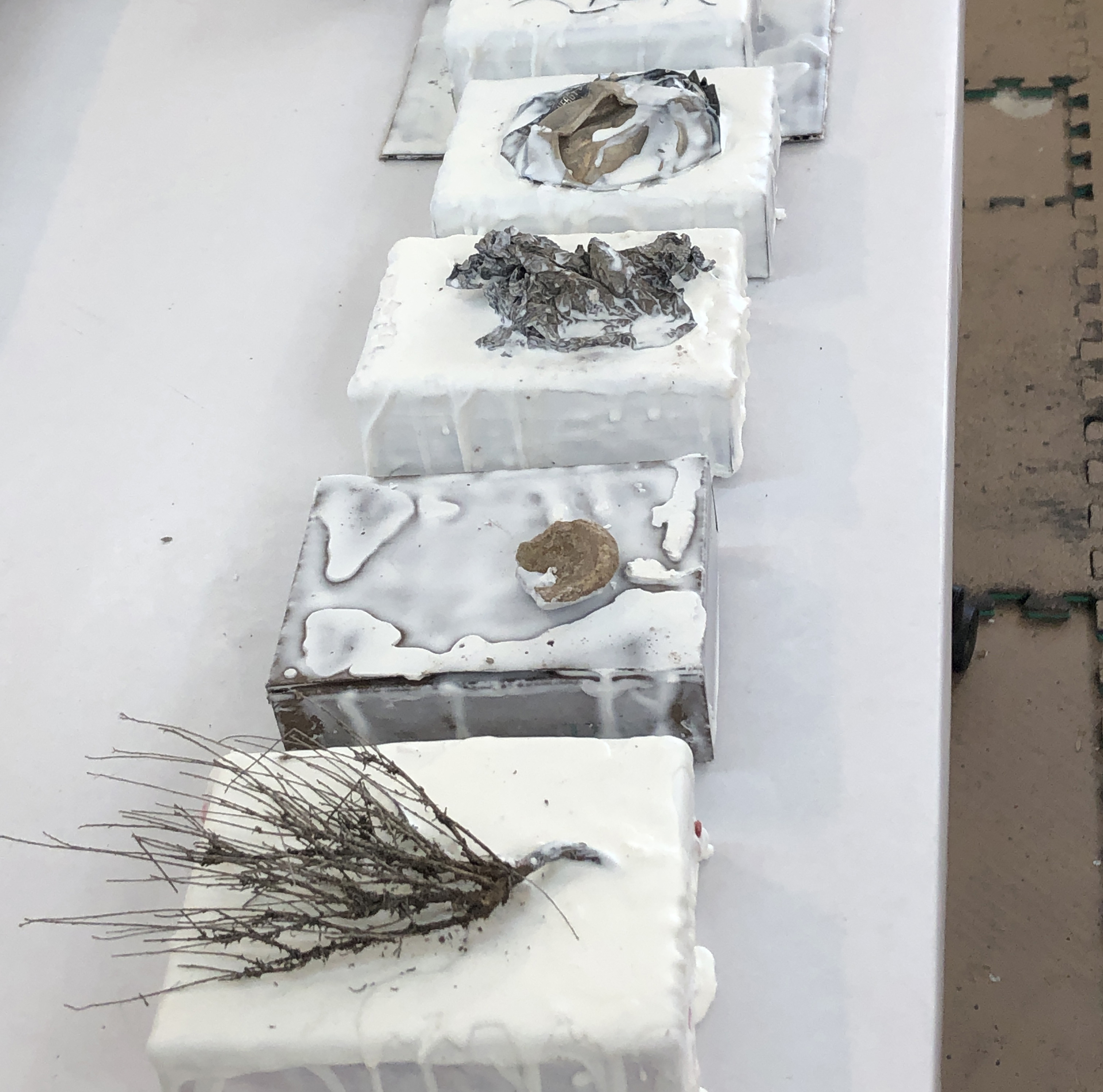 Become comfortable with Handling molten wax and paper in many formats. It can be cut, formed, and re-assembled, making it dimensional.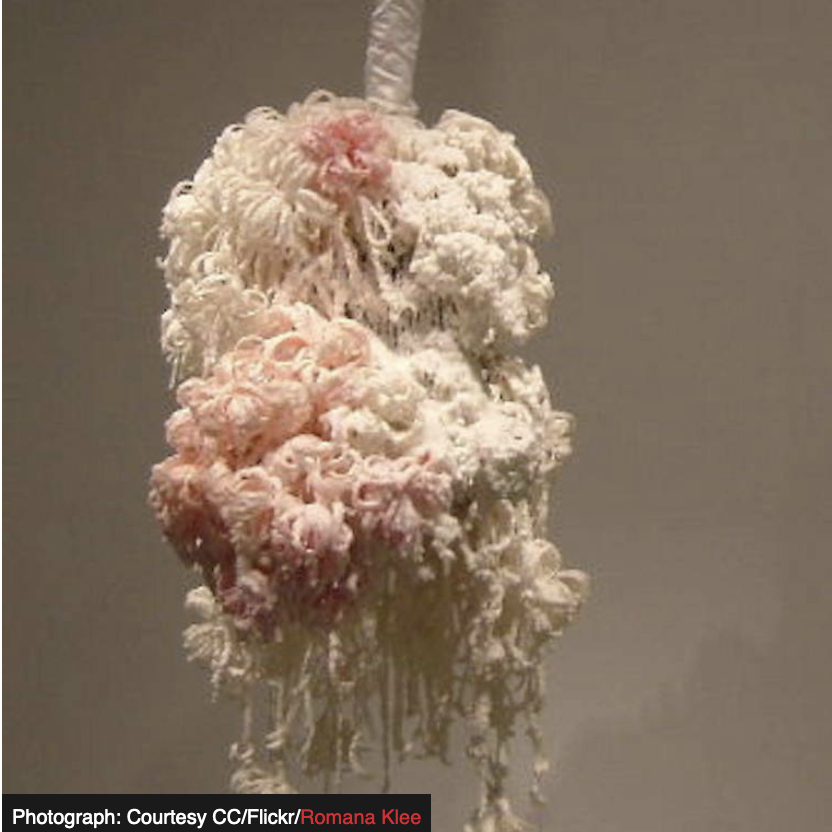 Discover Artists
Through PowerPoint Presentations discover artists who utilize the many possibilities of working with dipping, pouring, submerging, and related techniques that will inspire you.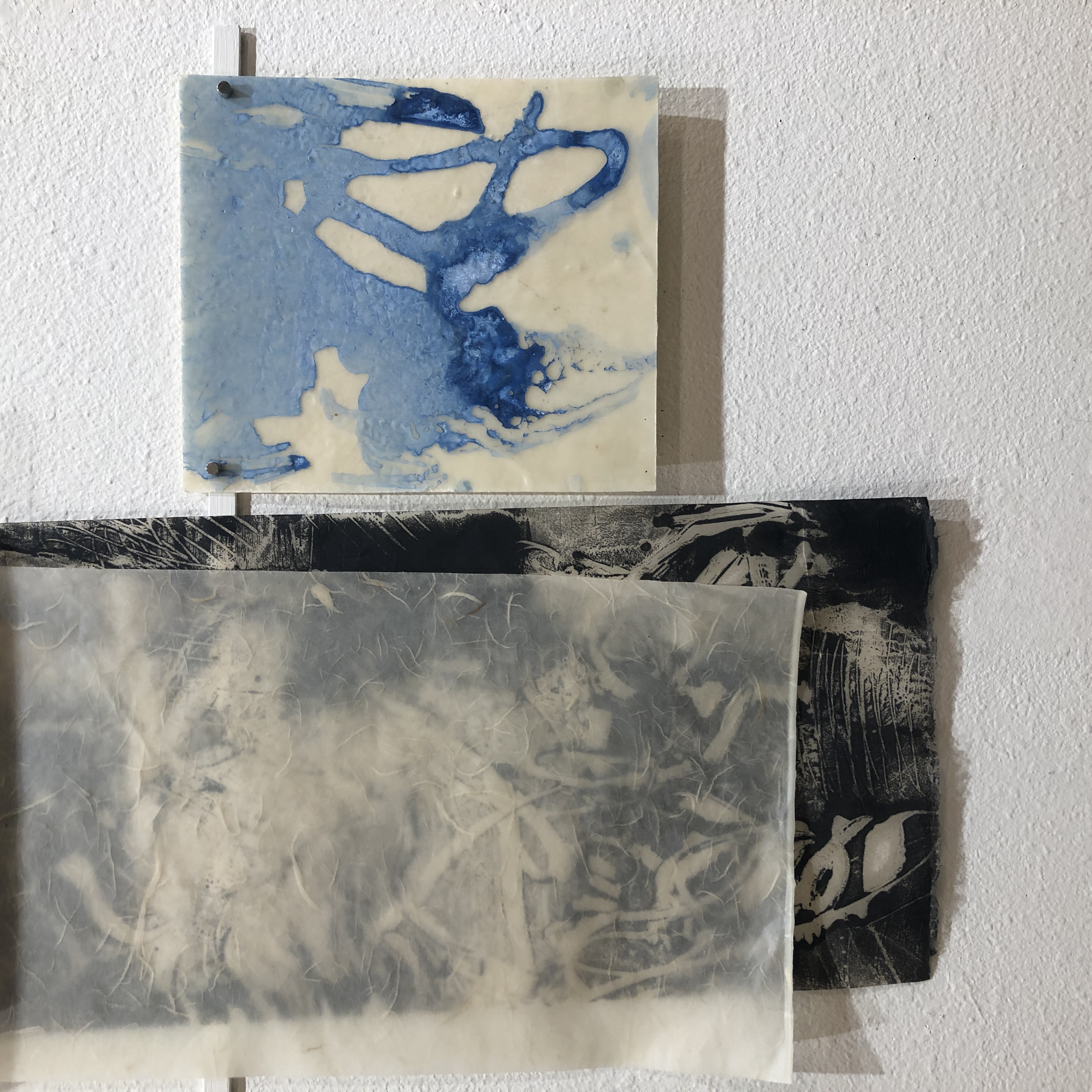 Translucent or Opaque
Thin paper may become translucent and thicker paper can be opaque and rigid, expanding possibilities.
Many options for presentation
will be shown!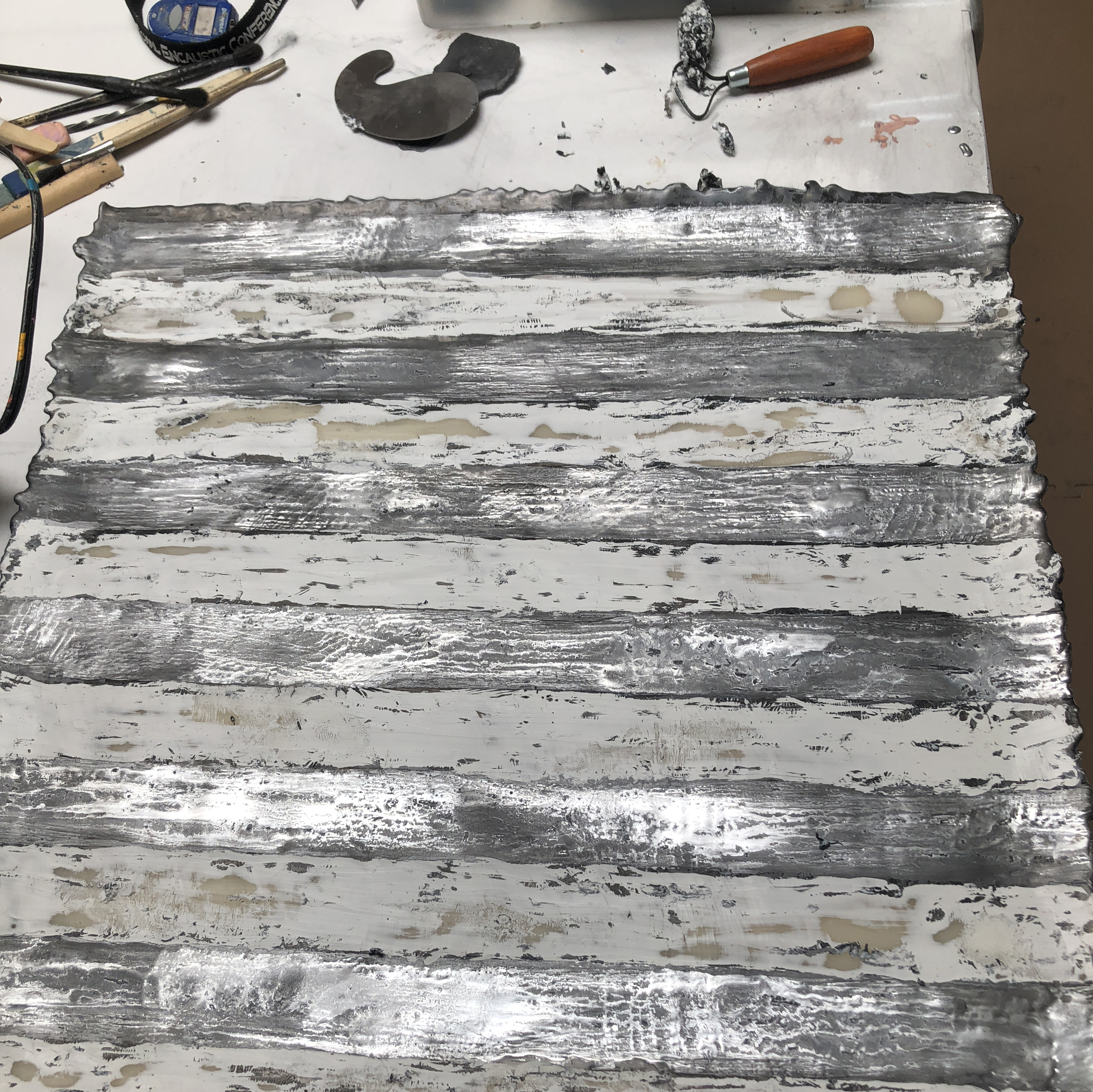 Small or Large
A special "faux-dipping" video shows how to work much larger with a combo of pouring and other techniques that mimic the look of paper dipped in encaustic.
Waxed-Paper substrates and natural-looking forms become objects in and of themselves.
These techniques inspire new ideas and complement existing works.
ADVANTAGES
Dipped substrates are compatible with virtually all encaustic techniques.
Encaustic on panel is heavy to handle and ship; wax on paper usually is not.
Waxed Paper is less vulnerable--wax/encaustic strengthens and seals paper. It is virtually waterproof.
You will become comfortable handling molten wax and paper in many forms. This is a great segue to 3-D wax forms.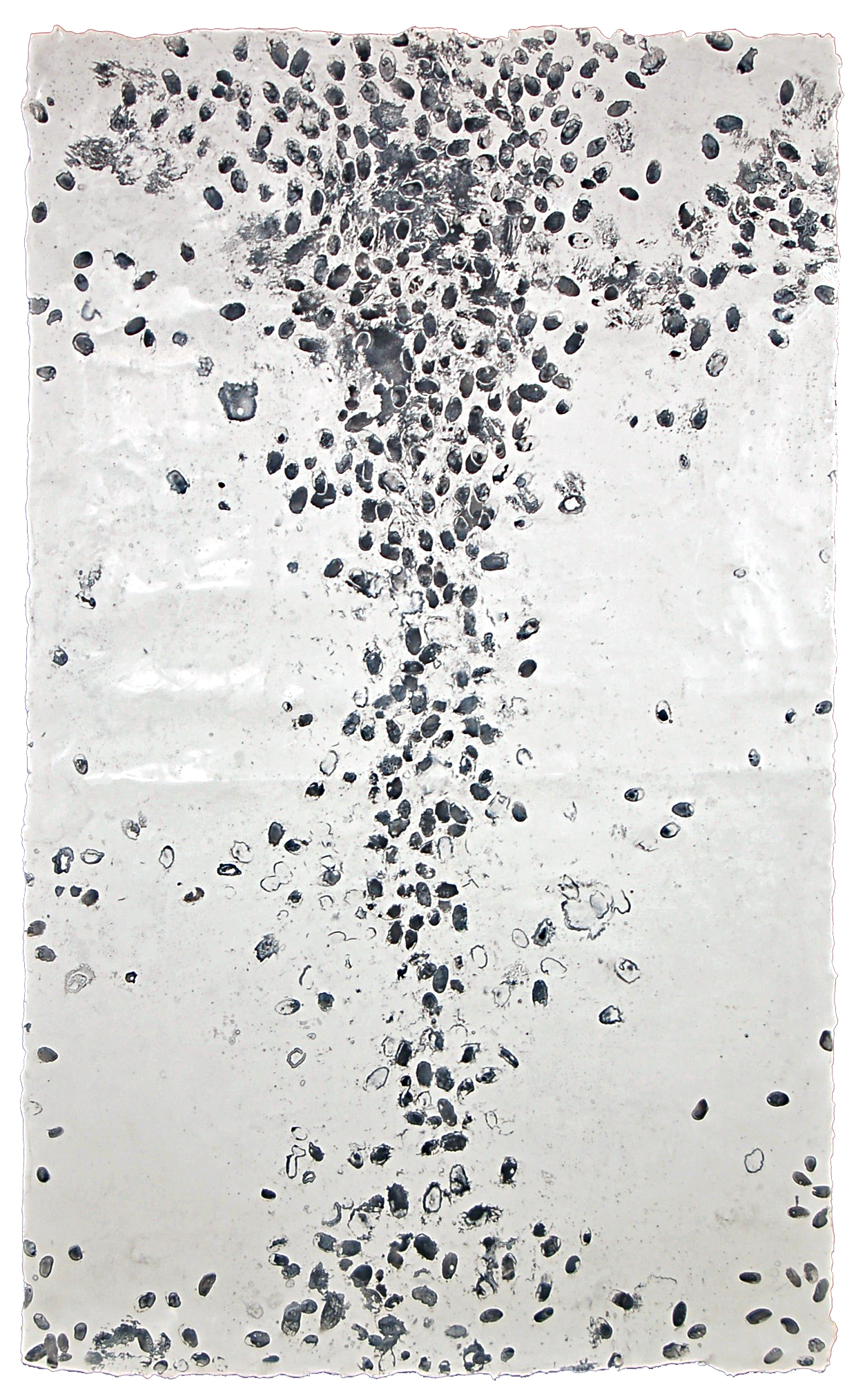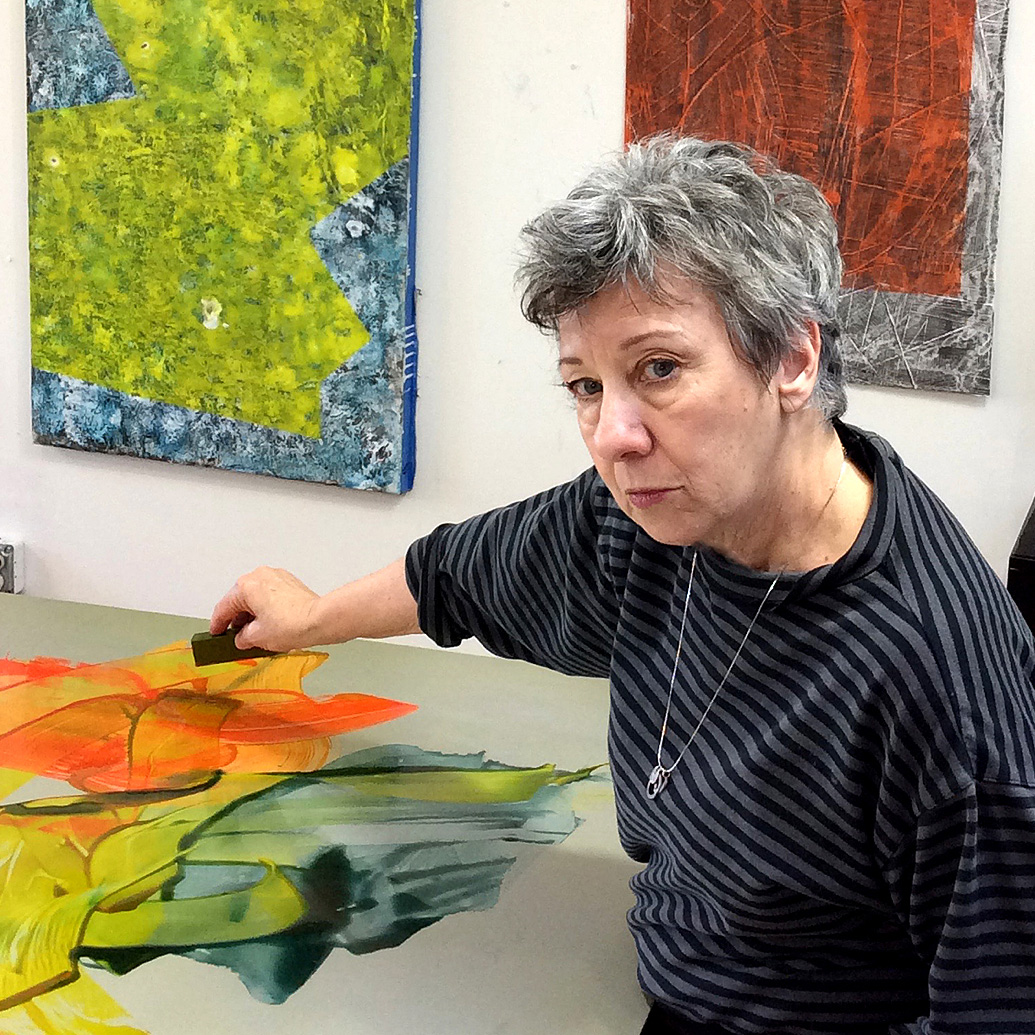 ABOUT PAULA
Paula Roland draws on over 35 years of professional experience in helping you realize your artistic goals. Paula began her journey with encaustic monotypes in the late 1990s, quickly becoming the "go-to" expert in this medium. Through her art, teaching and creation of the Roland HOTbox, she elevated the international profile of encaustic monotypes. For over 25 years, she has been a leading practitioner and instructor of encaustic on paper and panel. Paula exhibits and teaches encaustic painting as well as monotypes.
Roland's teaching experience includes teaching and curriculum development in colleges, museum education, and at nearly every level of art education.
Paula's interest in broadening the scope of encaustic printmaking extended the process to include large scale monotypes and scrolls up to 35' in length; installation and translucent back-lit paper works; mixed mediums and monotypes; heated drawing; video projection on prints; and prints layered with encaustic or collage.
Paula Roland has an MFA in Painting and Sculpture from the University of New Orleans, a BA from Dominican College, and Grad level education courses from Louisiana State University.

"I have taken several workshops with Paula over the years, each of which was very worthwhile. She is a talented artist and instructor. I always come away with useful techniques, renewed enthusiasm and new ideas. I admired her hand-dipped paper pieces, so I signed up for her workshop in 3D dipping and hand-dipped papers shortly before COVID. This was a unique way to work, and I highly recommend it."

"Paula's demos in the dipping class were packed with explanations and a wonderful depth of knowledge she was always willing to share. She spent time with each of us, helping us develop our own work, while encouraging further exploration. "
FAQ:
Q: Is encaustic experience required?
A: Yes, you need to have a working knowledge of encaustic and experience painting with encaustic. It is beyond the scope of this course to teach encaustic painting techniques.
Q: Is special equipment required?
A: You will need basic encaustic painting equipment and hand tools to accomplish your goals.
For dipping sheets: A wide electric skillet or large baking pan with hotplates.
For dipping objects, a deep electric pot or deep pan and hotplates are needed. Upon registration, you will have access to a detailed materials list.
Q: If I have more questions. How do I reach you?
A: You can email Paula at [email protected]
Q: Do I need a Roland HOTbox for this course?
A: No. However, you will find one very useful for faux dipping techniques!