Are you looking to expand your visual language?


During four live 2-hour sessions, Lisa challenges you to get outside your comfort zone with prompts and exercises that have you creating work that is more authentically "you" which ultimately makes it more engaging. A private 1/2 mentoring session will help to identify individual needs.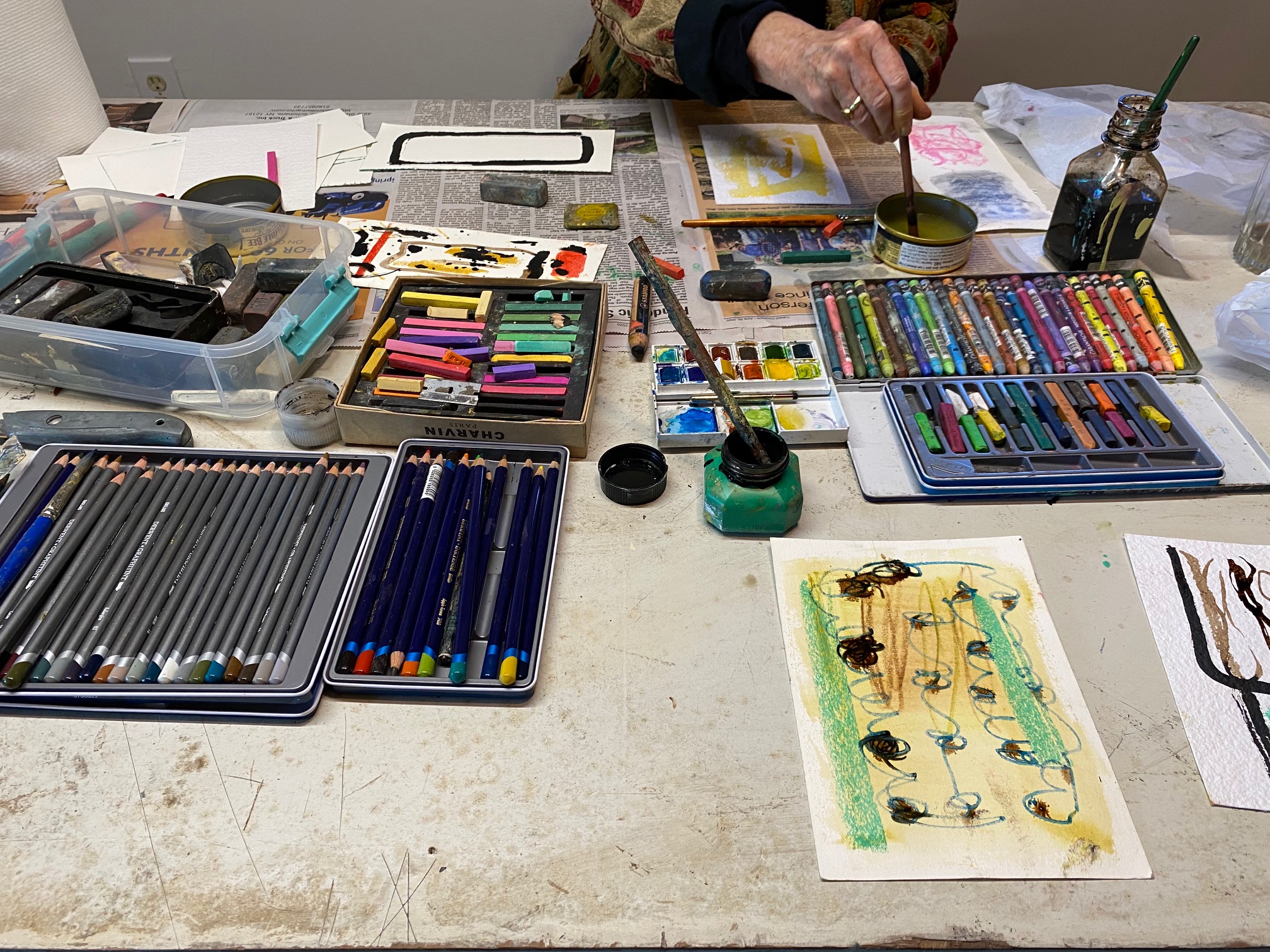 Concepts covered in this course:
Learn to free-up your art practice
Learn to develop work that reveals your unique voice
How to get out of your head and stop overthinking
How to reply to your inner critic
How to rethink what drawing can be
Respond to prompts based art fundamentals and conceptual ideas
Discover personal imagery and marks in your work
Use words and short writing exercises to dig more deeply
Prompts for drawing with mark-making, water media materials
Introduction to R&F Pigments Sticks® and cold wax to include in the visual journey
Powerpoint of contemporary artists and discussions
Discussion of participants' work
Bonus! One private 1/2 hour mentoring session with the instructor, Lisa Pressman
"This is a class that morphs & changes to your needs. I teach to the participants.
Students find that this a great class to repeat at various stages of their creative journey. Each time they take the class I help them focus on a different area of their practice, encouraging them to go deeper. It is at that deeper level of creative self-exploration that you find your voice.
I encourage you to try new materials but also use this class and apply it to your own medium of choice. Encaustic, Acrylic, Oil and Cold wax and more.
Art historical presentations help you connect your work to a larger discussion."
~Lisa Pressman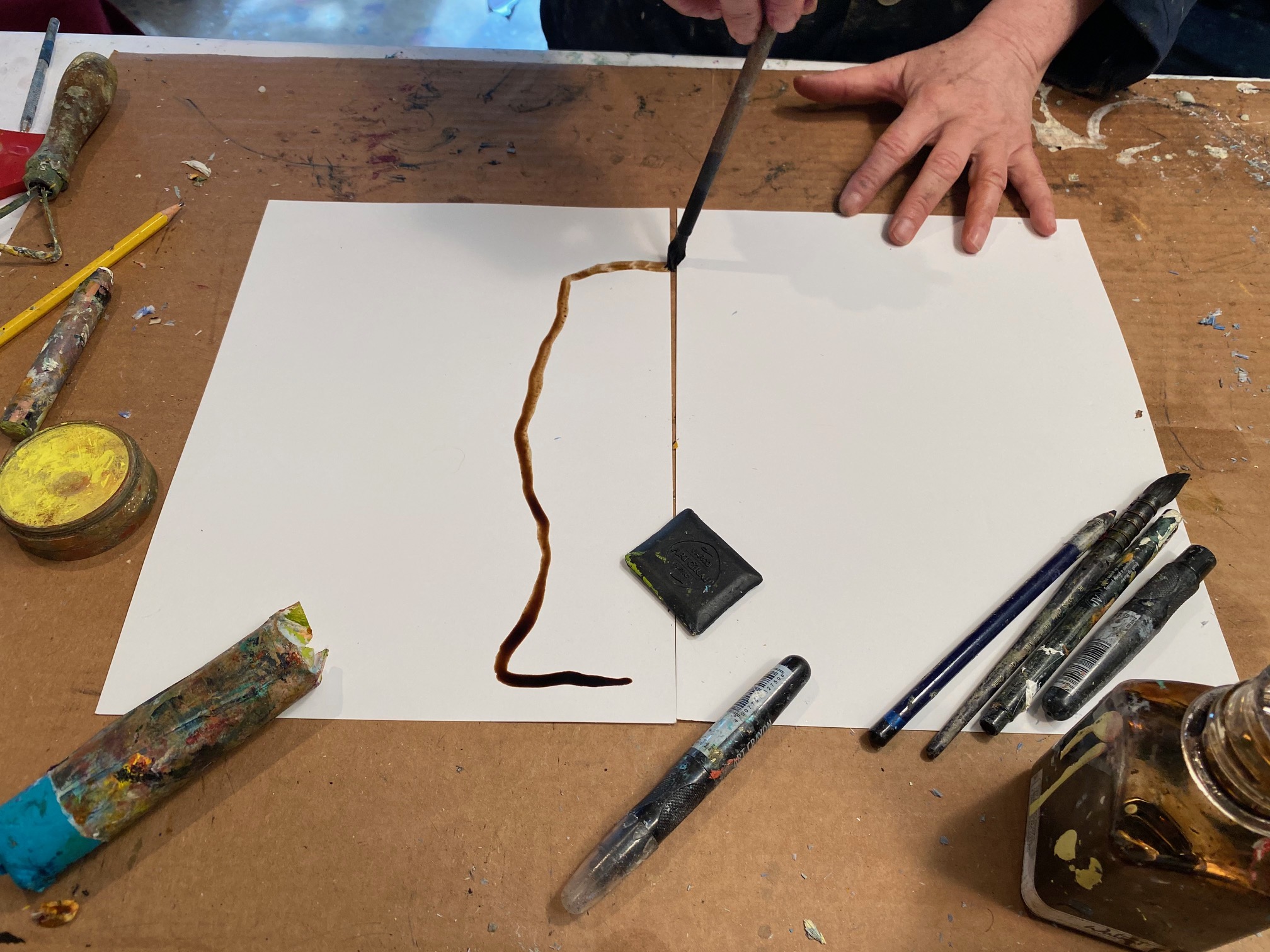 I have taken several workshops from Lisa Pressman and have always come away with a better understanding of the materials used as well as a fresh sense of where I'm going with my own art-making. She is an intuitive instructor, adapting her lessons to meet the needs of her students. Individual attention is one of her strengths. She allows ample time for exploration as we discover new techniques and methods for approaching our work. As a mentor, Lisa has helped me take my studio practice to the next level. Her questions are thought-provoking and individualized; her answers to my questions are honest and reliable. She is a valuable resource, whether I'm updating my website, preparing for an art show, or contemplating a new body of work. Her humorous yet straight-forward approach is exactly what I need.

I have taken numerous Lisa Pressman workshops and have found they are a way for me to get outside my own studio practice to give me air, perspective, freedom from my own process to help scare staleness away. When I am in her workshop, I turn it over completely to Lisa as she guides the group through all kinds of drawing and seeing exercises while feeding your palette a smorgasbord of good medium and pigment. I trust each exercise, which opens me up for authentic creating and I begin to tap into a certain exciting energy. I leave all of my own control at the door of the studio when I work with Lisa so I can just relax and go with the flow. It takes days after a workshop for me to assess what I did and inevitably, I realize I actually have a series of transformative paintings. This helps feed my studio practice with new energy.

I most appreciate being told what I need to know and not platitudes of which the internet is full. You are an ideal mentor for artists who are beyond the beginning stages. 
Based on your critique of some pieces, I made changes that improved many paintings. I am delighted to report that my recent show generated several sales, including some influenced by you. And I know my approach to all my work will have a more effective inner critic.
FAQ:
Q: Do I have to have painting experience to take this class?
A: Ideally, this class is for someone who has had some painting experience.
Q: What mediums are covered?
A: Lisa will demonstrate the various materials including water media, cold wax,R&F pigment sticks, pan pastels, ink and more.
Q: Is this class right for me?
A: The concepts covered in this class apply to any medium. You will explore what makes your mark-making unique, how to loosen up and get out of your head, and create more authentic work. You will begin to connect with your "why," the concepts behind your work.
Q: Will there be critique?
A: The last session will include time to review student work created during the class. 
Q: I have more questions. How do I reach you?
A: You can email Lisa at [email protected]