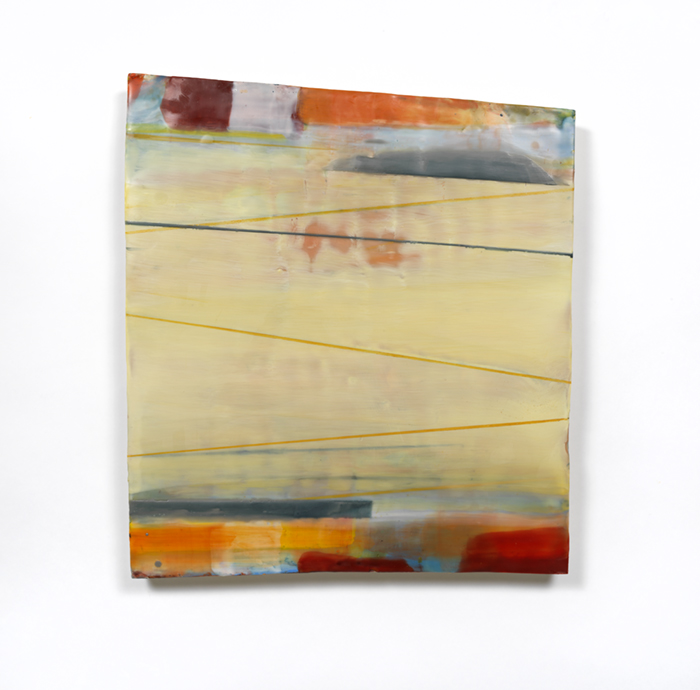 Explore tips and techniques I have developed over the years while working with encaustic.
Even if you have been working with encaustic or are just getting going, there are new ideas that you can bring to your work. These include:
Understanding encaustic paint
Getting a smooth surface
Using large brushes
Working with Transparent and Opaque color
Understand color relationships with contrasting colors
Mixing warm and cool grays
Surface alterations
Combining R & F Pigment Sticks with encaustic.
Unique fusing methods
Achieve lush color passages, physical or sublime surfaces and introducing new approaches to your encaustic work.
Take the video series techniques and bring them into your work!
The possibilities are endless!
Join Jeff for a live Q&A on Saturday, May 21 from 11 - 12 noon Central!


I believe that creating art is about transforming materials [to] reflect the artist's vision. My teaching approach involves sparking ideas and encouraging risks while creating.
~Jeff Hirst ~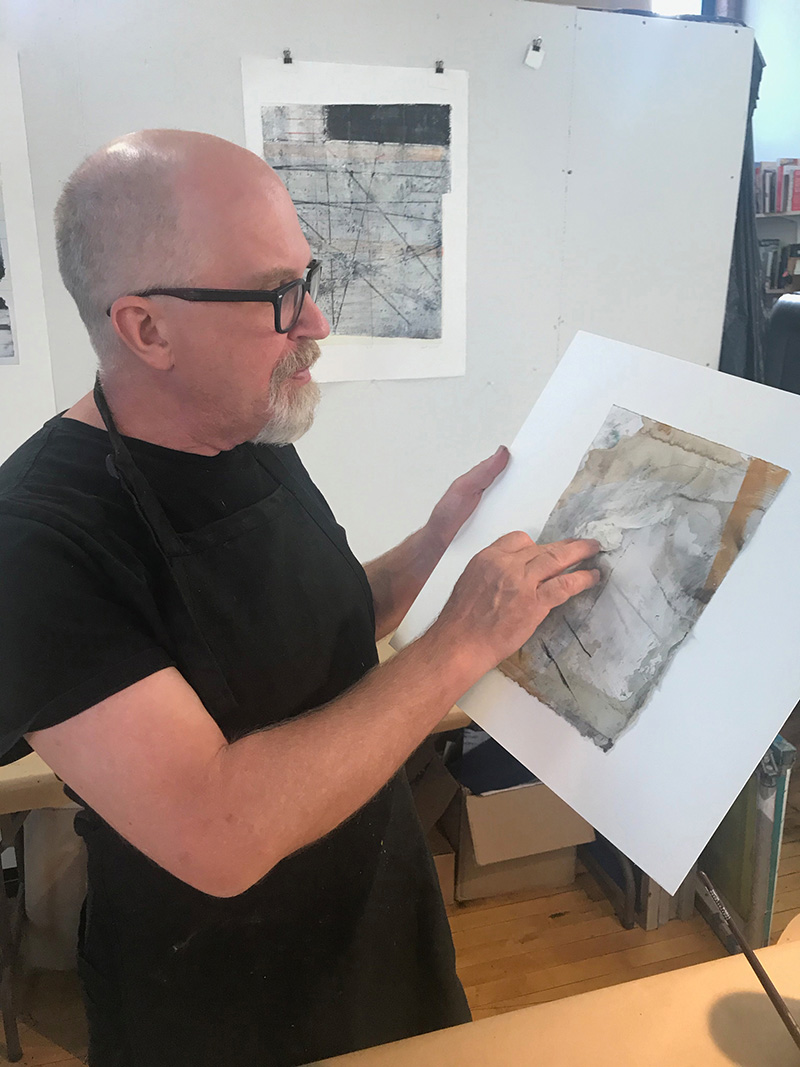 No worries, Jeff Hirst demystifies many encaustic processes and has been teaching encaustic workshops for many years.
During this class, you will explore:
Surface alterations
alternative fusing techniques
color mixing
transparent and opaque color
cool & warm grays
getting a flat surface
working with oiled wax
Jeff's demonstrations show you what is possible with each technique and helps you discover how these processes work with your practice.
While teaching I promote brainstorming, allowing ideas to germinate and develop. When making work, the process is important and finding one's own path during creation is crucial.
~Jeff Hirst ~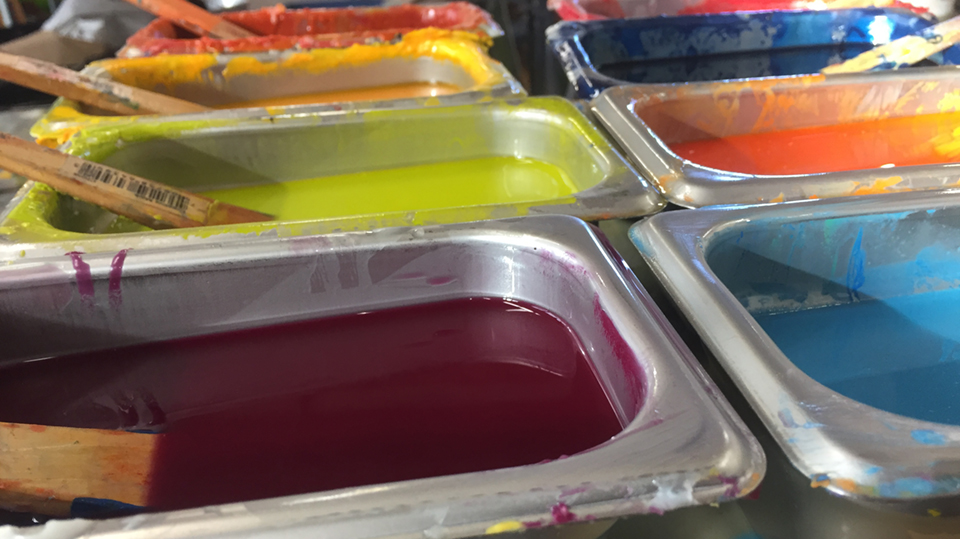 Being an artist has instilled a sense of problem solving in my own work and this is something I share with my students. How can they take one idea or solution to a problem and apply the solution to another situation to solve a problem. 
Take advantage of this class & start adding these techniques to your practice now!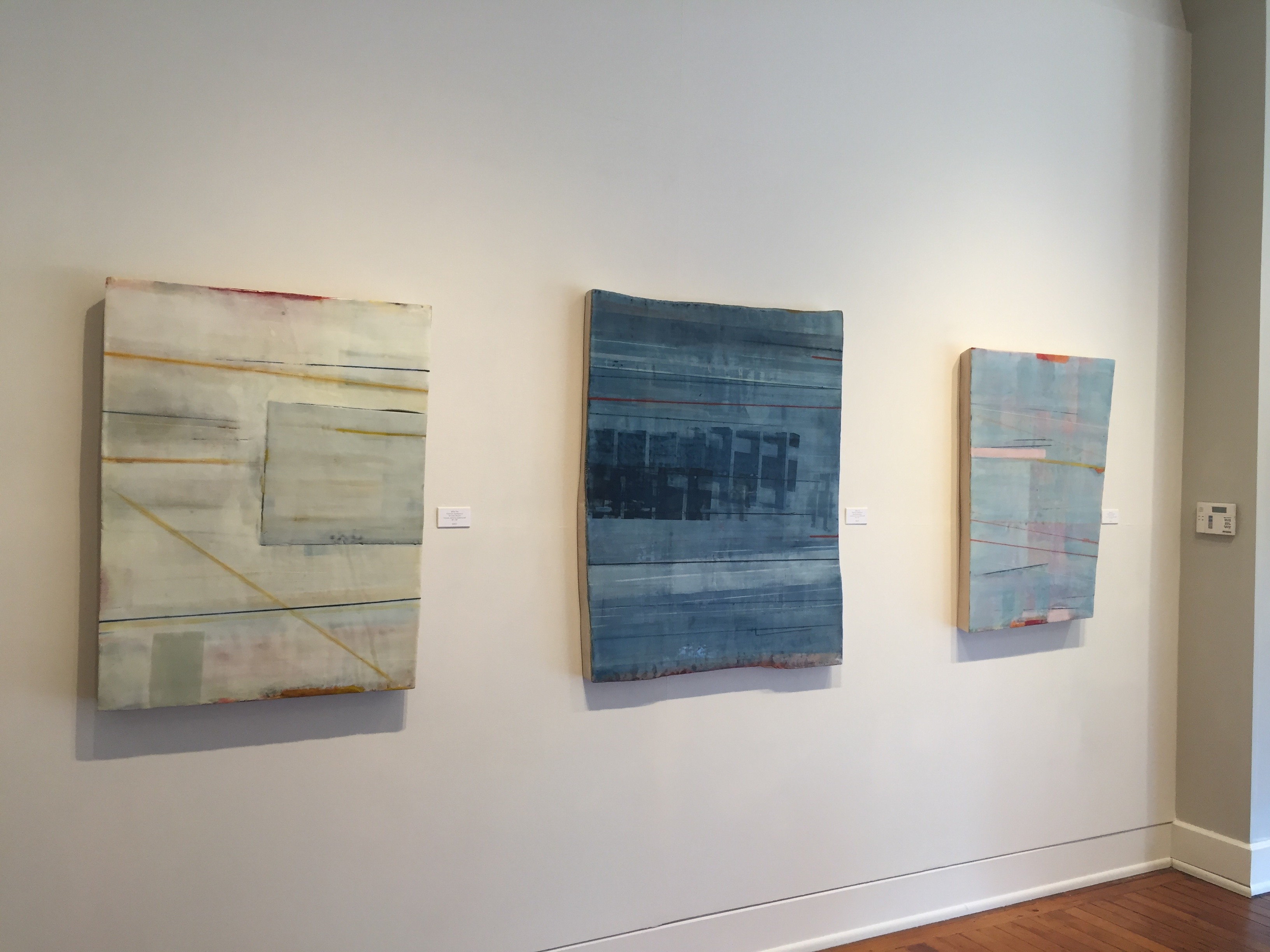 While teaching for many years Jeff bring's a problem solving approach to his students that you can take back to your studio. What you learn from the video series will stay with you for years to come.


FAQ:
Q: Do I need previous encaustic experience?
A: No. This class is perfect for the new student to encaustic or someone who has been working with encaustic for a while.
Q: Do I need painting experience?
A: No. Dive right in. This class will introduce you to ways you can use encaustic in your own work.
Q: I work in mixed-media. Will my imagery translate?
A: Yes! I work in Mixed Media and bring painting, printmaking, and sculptural ideas together.
Q: How do I access the class?
A: Once you purchase the class videos, you will have access to the course content and can work at your own pace.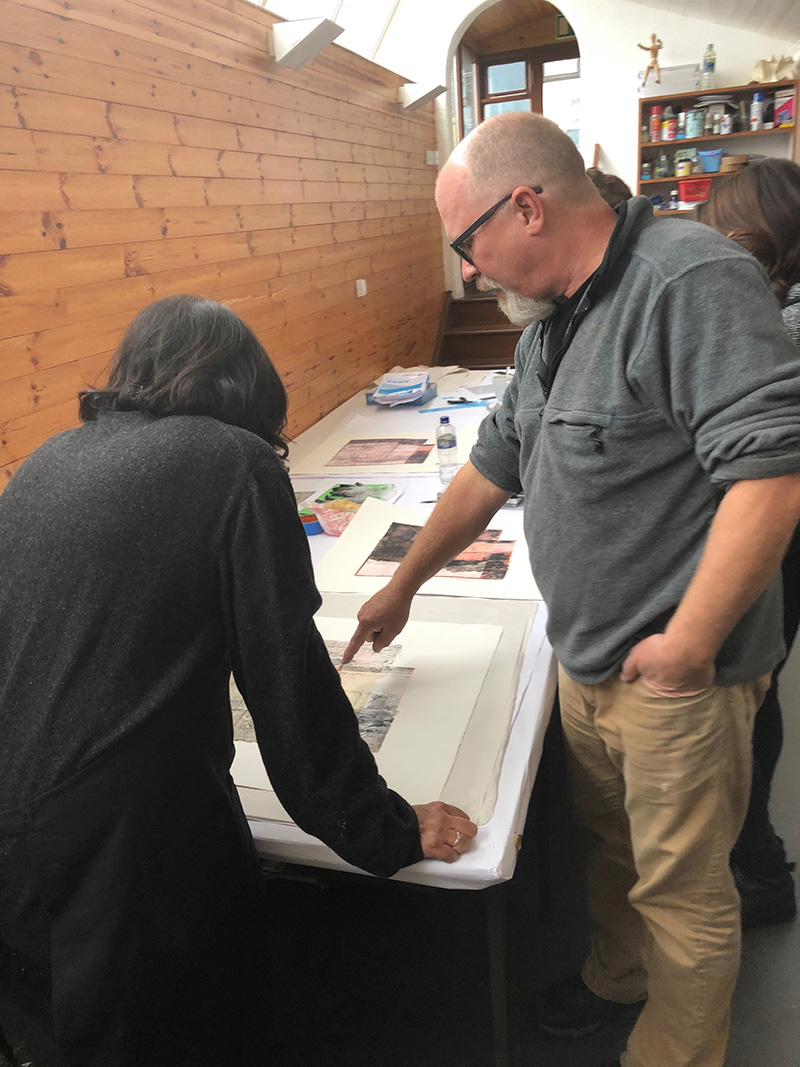 Jeff Hirst draws on over 35 years of professional experience in helping you realize your artistic goals. With an MFA in painting and printmaking from Louisiana State University, he seamlessly moves between various mediums. In his work and teaching, Jeff explores the intersection of printmaking techniques, painting, and sculpture, the place where he believes magic happens.
Jeff pioneered the process of combining silkscreen and encaustic painting in 2005 and remains the only resource for learning this technique.
He is always thinking outside of the box combining high and low-tech solutions in executing his work. You will find his perspective opens up new ways of seeing your practice and approaching your work and is ideal for mixed-media artists. He is also recognized as an R & F Handmade Paint Core Instructor and a Silver Brush Educator.

Jeff is a generous teacher, focused but relaxed. I am primarily a painter and came with very little printmaking instruction; Jeff made the principles of the specific techniques accessible and clear, yet was open and very encouraging of experimentation, including mixing printmaking types and even other media.

Jeff Hirst is one of my favorite teachers! His love of the work comes out in the enthusiasm he shows for the work of his students, and his patience helps us through the rough patches when we want to be as good as he is. His unique combination of artistic and teacher skills make classes a joy to participate in. I always look forward to spending two days with Jeff. 

Jeff is an accomplished and talented artist who shares his knowledge and techniques with such enthusiasm that it is contagious. Each class presented a new challenge that included suggestions to combine methods from previous lessons. With Jeff, I was introduced to monoprint, intaglio, collagraph, and screenprinting. And more! I observed firsthand how a creative artist pushes the limits and experiments in a fun and safe way!

Jeffrey Hirst's class on mixed media printmaking was terrific and I would highly recommend it. He provided lots of information, guidance, and instruction on various types of printmaking. But he also fostered a learning environment that allowed for experimentation with the various media. And if it worked out - fine, and if not, he exhibited great patience and encouragement for my trying it differently next time. I also appreciated his honest and candid feedback about my work. That is how I learn best. And finally, Jeff was personable with a great sense of humor. Our class had a wonderful week working with him.

The workshop was one of my all-time favorites! I feel energized and feel the courage to continue experimenting! I needed this!!!

I appreciate how your class was accessible to beginners as well as advanced printmakers. You welcome all levels and anyone can improve and expand their artistic language from your teachings. I think our students were at various levels and I could see that it wasn't boring for advanced students as well as not overwhelming for beginners. And thank you for your friendly, patient, and generous attitude and making the class fun. There was a good vibe and we learned a ton! Your printmaking workshop was a creatively magical experience and I was so sad to see it end. I hope you enjoyed your time in Cullowhee and hope you come back!