"Exploration leads to better discovery than being told the answers or shown how to do something; this becomes a key part of an artist's personal development. It [learning through exploration] builds confidence and greater mastery of the materials. My role is to introduce students to materials and show them what's possible and then let them explore how they can use them to express their ideas."


~Jeff Hirst~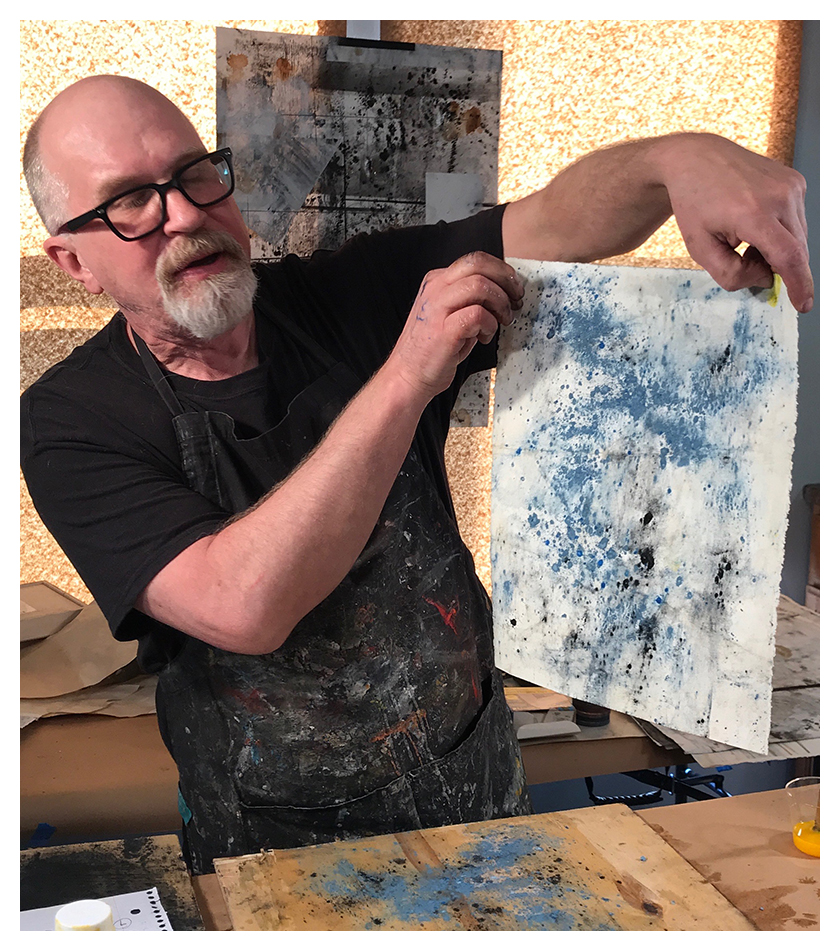 Transformation is a logical theme for Jeff's teaching and work.
Mediums like encaustic require a fundamental transformation of the materials—in this case, heat to create and activate the medium.
Conceptually, Jeff's work also addresses change.
Drawing on his background in painting, printmaking, and sculpture, he creates evocative works investigating human-made architectural structures and the natural landscape, how these two forces coexist in an urban environment.
The works reveal the correlation between urban decay and natural beauty at both the micro and macro levels, ultimately exploring transformations.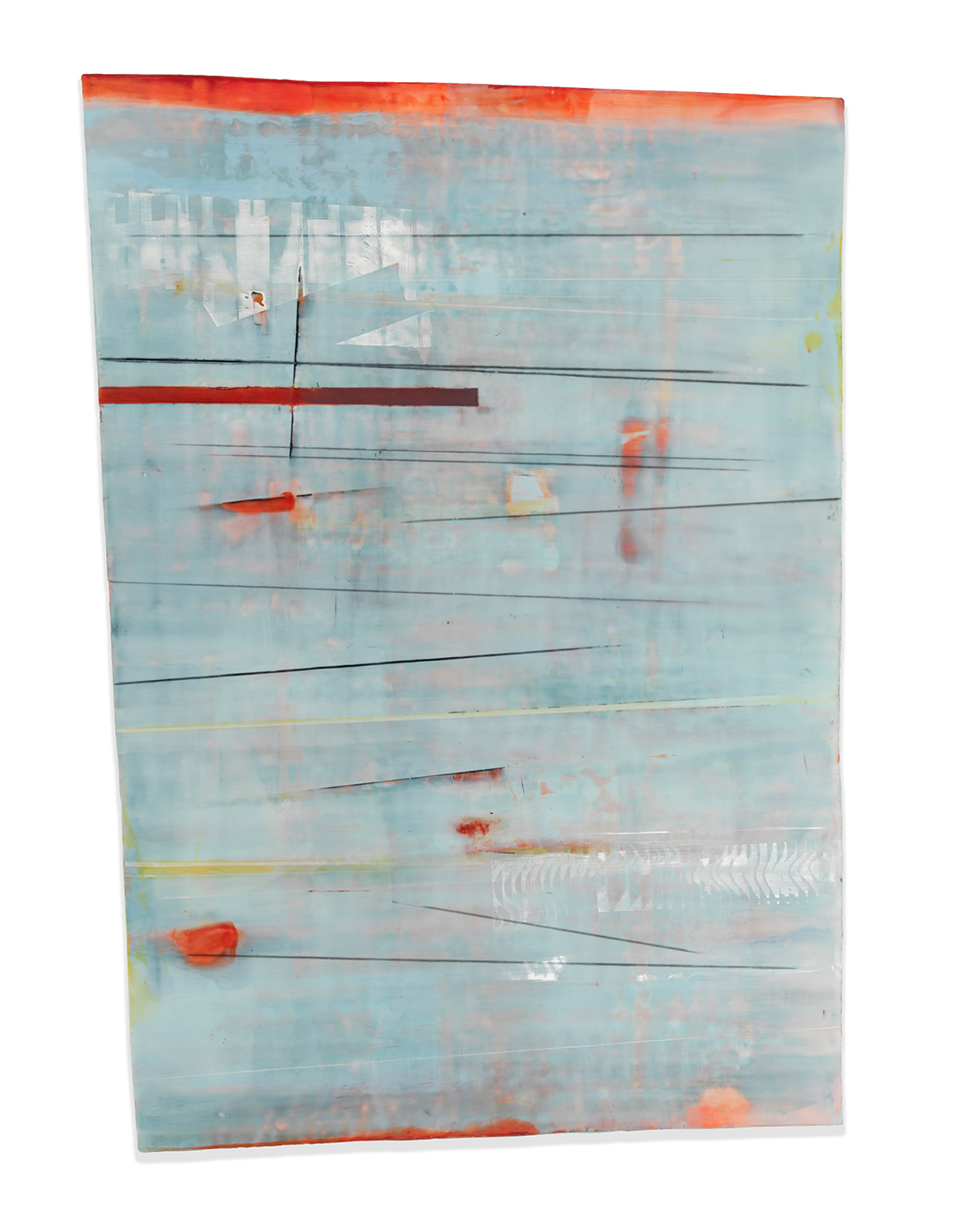 Trapezoidal shaped encaustic paintings with receding angled sides capture the feeling and perspective of being in a cityscape.
Layers of color almost appear to superimpose the landscape over his compositions. Instead of being the background, they become a veil through which the viewer experiences the echoes of buildings and cityscapes.
"I promote a conceptual process where painting, printmaking, and sculptural ideas unite, overlap, and synthesize. I encourage students to mix media."


~Jeff Hirst~

He continues to explore the intersection of printmaking techniques, painting, and sculpture.
He believes that is where the magic happens.
Moving seamlessly between various mediums, Jeff incorporates unusual materials and low and high-tech solutions that create sophisticated works with complex surfaces.
Jeff's strength as an instructor lies in his command of 2D and 3D mediums and his ability to create an environment where students feel confident to explore.
His "discovery" teaching style enables students to expand their problem-solving skills by learning from doing, not just watching.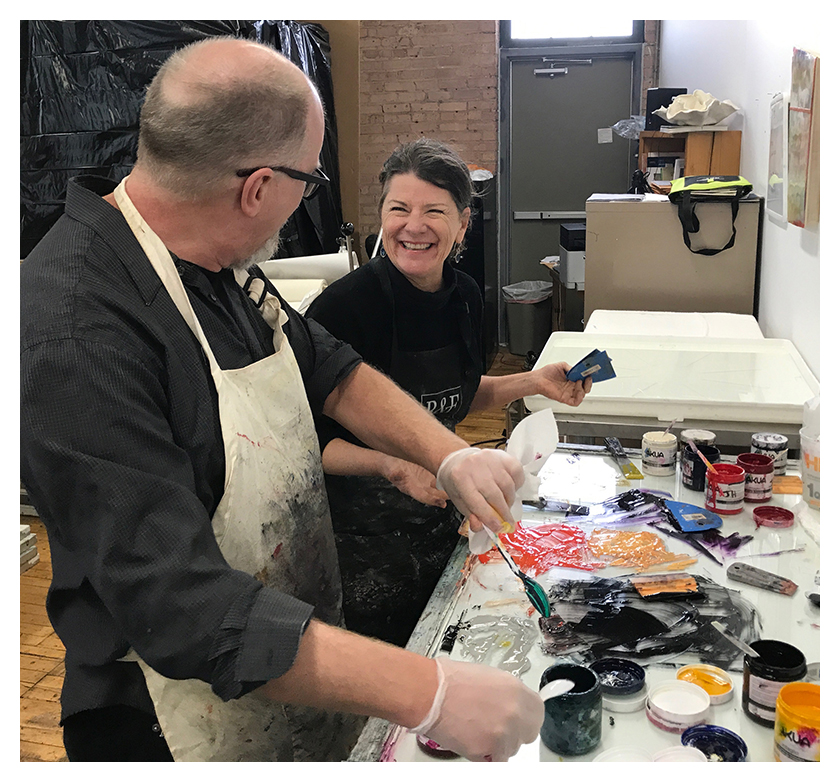 "While teaching, I promote brainstorming, allowing ideas to germinate and develop. I have a way of getting students to produce a high quantity of work while not worrying initially about quality."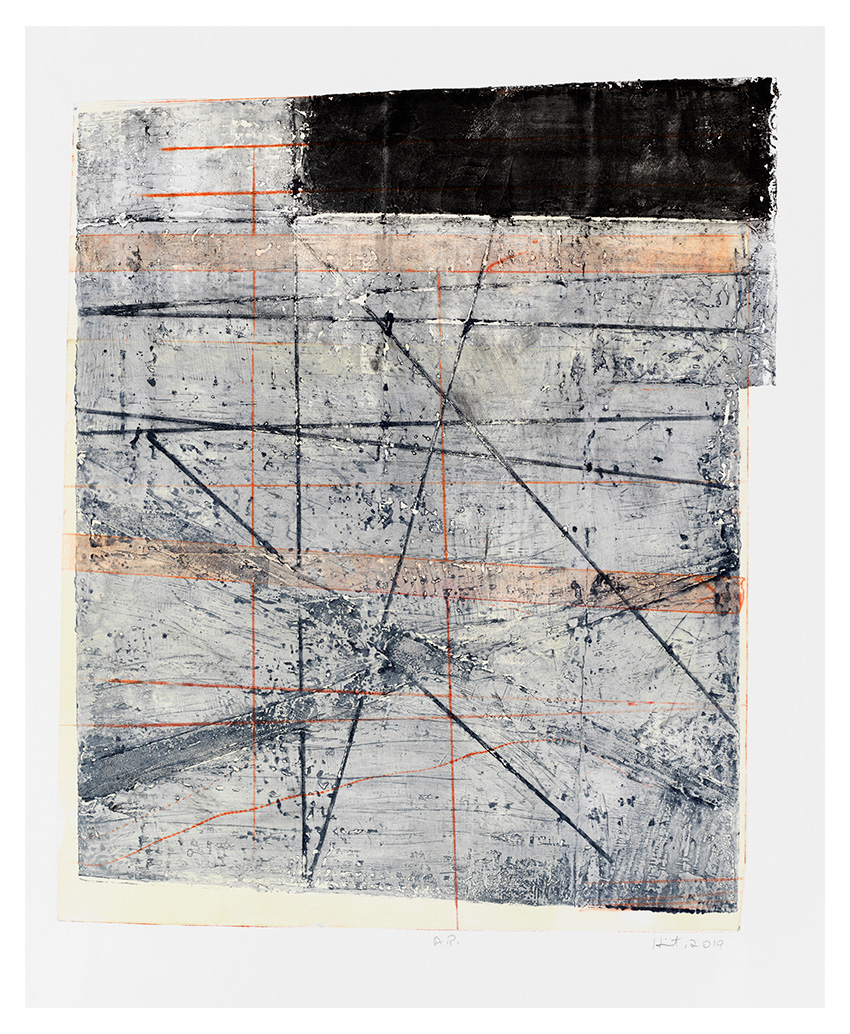 Jeff's demos show the potential of materials and techniques, giving students the parameters of what is possible and then setting them loose to explore.
While many students find printmaking intimidating because of the expensive specialized equipment, Jeff has developed unique low-tech, no-press-needed printmaking techniques.
For example, he transforms cardboard, tape, and carborundum (silicon carbide grit) into a plate that he prints with or without a press. These humble materials yield elegant and unique results. This is just one of the many innovative approaches that Jeff teaches in his classes.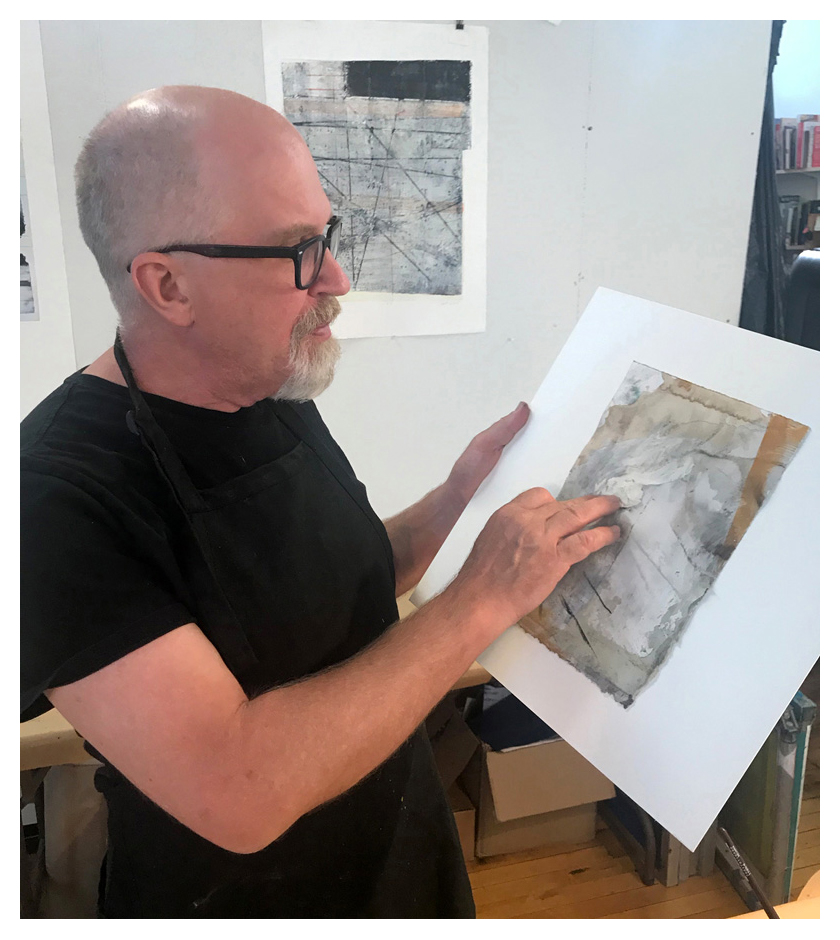 In addition to his online courses, Jeff teaches workshops in his studio, at venues across the U.S. and internationally. He especially enjoys the workshop he teaches in Ireland annually.
His studio in Chicago, Hirst Printmaking, is a printmaking shop specializing in intaglio, hybrid processes, screen-printing, and experimental approaches combining printmaking, painting, and sculpture.

Jeff is a generous teacher, focused but relaxed. I am primarily a painter and came with very little printmaking instruction; Jeff made the principles of the specific techniques accessible and clear, yet was open and very encouraging of experimentation, including mixing printmaking types and even other media.

From the very first class, I was hooked. The workshops taught by Jeff Hirst in encaustic painting and techniques are awesome. The atmosphere is open and inviting. Jeff Hirst is a knowledgeable and motivating teacher with a wealth of resources and experience. His workshops always include a generous supply of everything you need for full exploration along with the absolute freedom to bring to the table your own unique way of working. Jeff teaches in a relaxed and warm style that is inclusive and fun. Because of Jeff Hirst's classes I have embraced a new art form for life!!

Jeff Hirst is one of my favorite teachers! His love of the work comes out in the enthusiasm he shows for the work of his students, and his patience helps us through the rough patches when we want to be as good as he is. His unique combination of artistic and teacher skills make classes a joy to participate in. I always look forward to spending two days with Jeff.

Jeff is an accomplished and talented artist who shares his knowledge and techniques with such enthusiasm that it is contagious. Each class presented a new challenge that included suggestions to combine methods from previous lessons. With Jeff, I was introduced to monoprint, intaglio, collagraph, and screenprinting. And more! I observed first hand how a creative artist pushes the limits and experiments in a fun and safe way!

Jeff's classes are structured to meet the needs of novice to advanced artist, exploring the properties of the medium and its varied techniques and applications. His knowledge, experience and passion both challenge and support the developing artist and have been instrumental in my own creative growth and practice.

Earlier this year it was my good fortune to be able to take Jeff Hirst's three day workshop, WAX, INK and MESH: Combining Printmaking and Encaustic Ideas. Jeff is an inspiring teacher who is well prepared for class each day. All processes are outlined thoroughly and information is handed out to the class for their reference when they go home. You are sure to glean a number of good techniques and processes to add to your practice as an artist. I continue to reap the benefits of the workshop.