Do you swoon over textiles, prints, decorative arts, design, anything with pattern and want to learn how to effectively incorporate these elements into your work?
Do you include pattern and repetition in your work, but the work hasn't moved past mere decoration to involve meaningful content?
Do you want to include pattern in your work, but you are fearful that it will be received by the viewing public as decorative art?



With an emphasis on mixed media, methods and materials covered in this encaustic workshop include the use of organic and geometric form, realistic and abstract imagery, patterned collage, stencils, and more. Spacing the sessions to once a week allows for participants to experiment and truly delve into the techniques learned. Considerations such as using pattern and repetition as content itself, to tell a story, support and/or strengthen the message will also be discussed.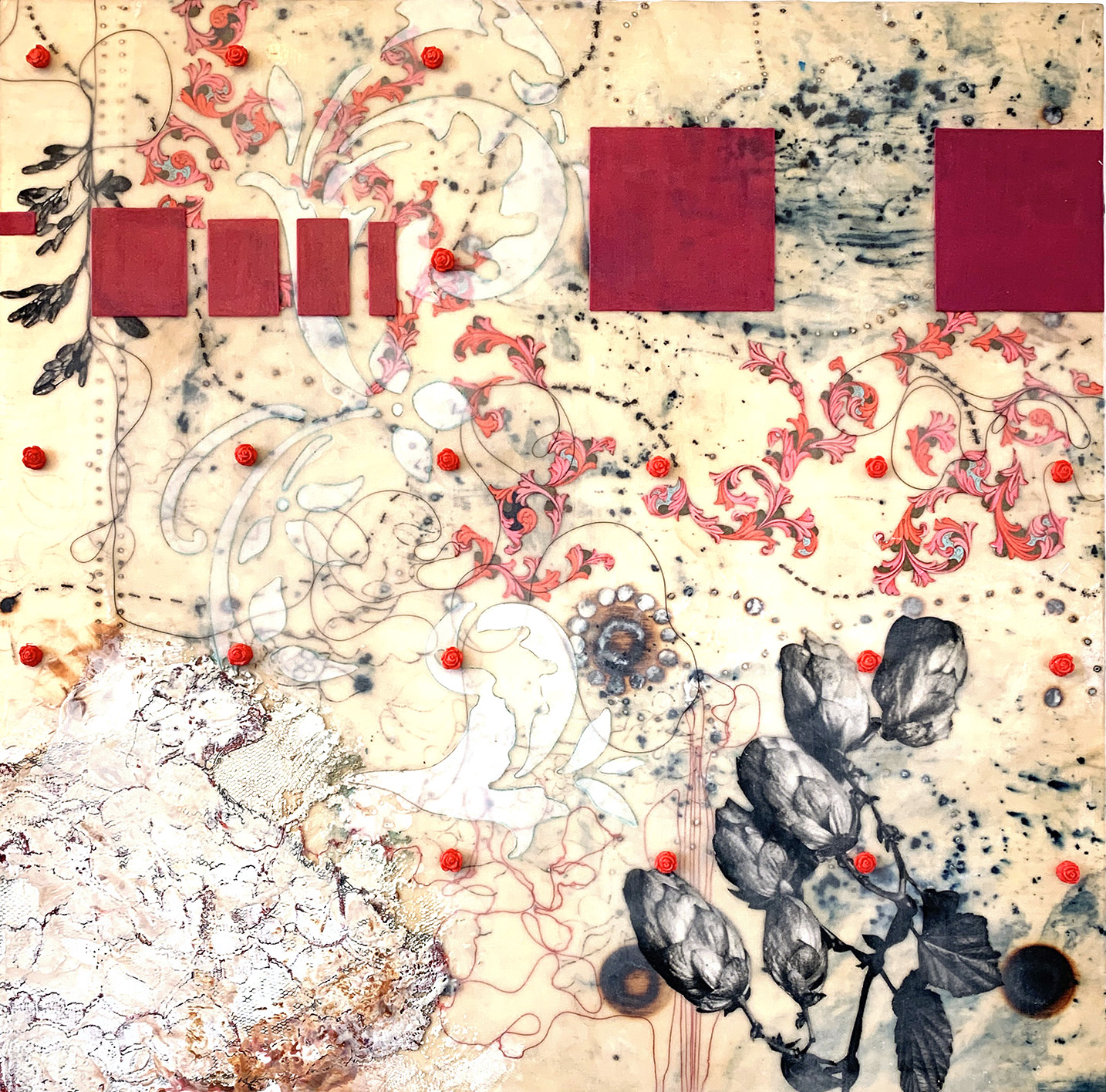 Topics and concepts covered in the course:
What a motif is and how you can generate one to create personal patterns with meaning and how to incorporate them into your work.
Create personally designed fabrics and papers using indigo, rust and compost printing and use them as a basis for a painting.
Create repetitive patterns using innovative tools and techniques such as pyrography (making marks with heated metal and tools), and more.
Learn my technique for applying decorative stenciling into my work and how you can use stenciling to strengthen your compositions and content.
Experiment with doodling, mark making and process to create personal patterns.


This class is an excellent fit for: those who may be frustrated with your current body of work, your process(es) and want to create consistency, and a cohesive portfolio.
You want to express yourself in a more meaningful way with your work.
Your creative process is stagnating and you want to learn a new process, idea or technique.
You have always wanted to create 'visual poetry' in your paintings.




In these four, 2 hour live classes, content from demos will be discussed in lectures and in-depth Q&A to broaden the foundation of your creative practice.  This course will also include a materials list. Optional one-on-one meetings with instructor available.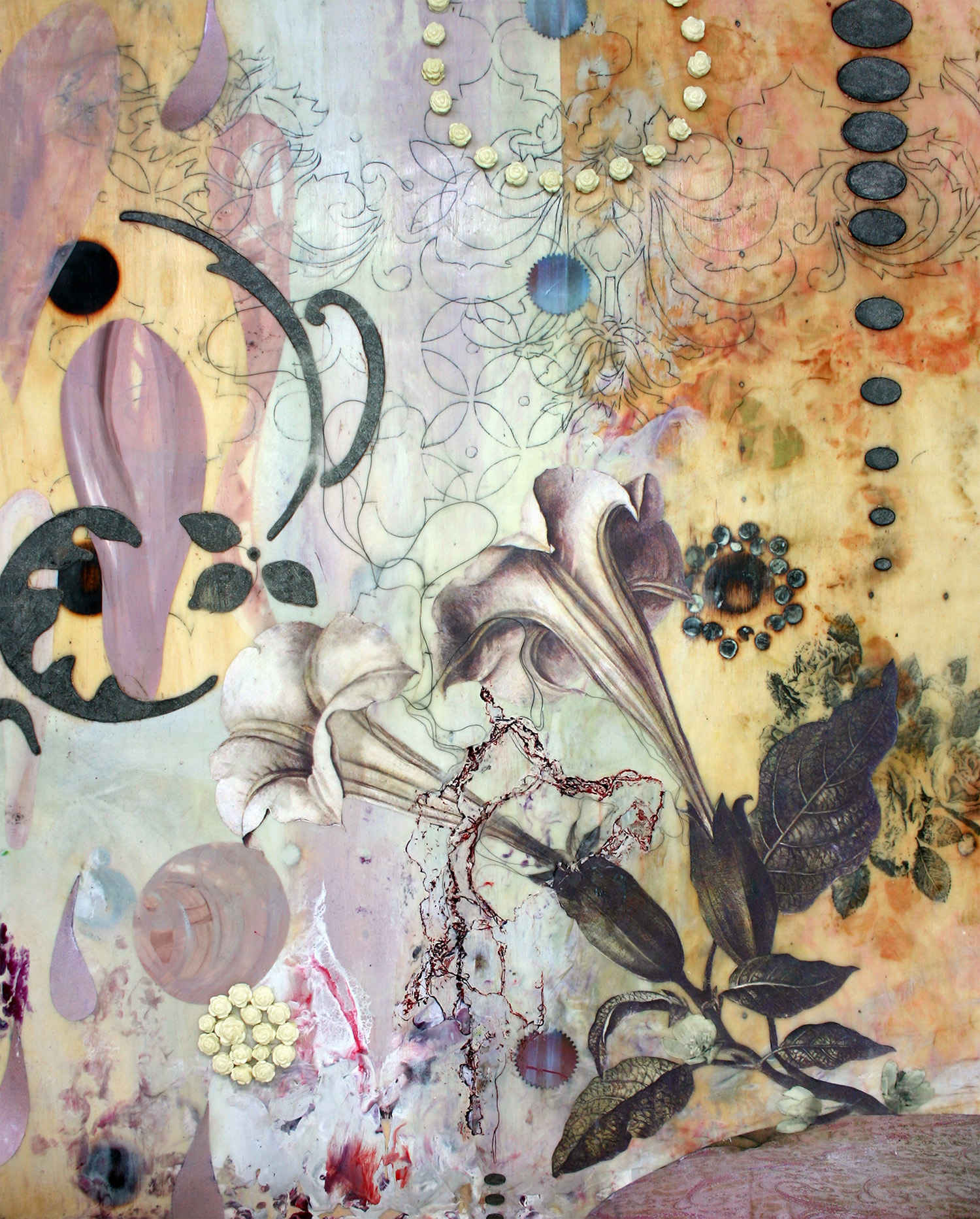 FAQs:
Q: What materials and equipment is required for the class?
A: Materials list will be provided upon registration.
Q: How do I access the class?
A: Once you purchase the class, you will have access to the course content (pre-recorded, handouts, and live meetings.) Classes will take place live on Zoom. The recorded live sessions will be uploaded to the course for replay.
Q: How much experience do I need?
A: This class is for beginning to advanced students.
Q: I have more questions. How do I reach you?
A: You can email Lorraine at [email protected]





I feel like I have a new direction and a stronger sense of structure. I know you'll be teaching and helping new and experienced artists to become stronger and better. I don't know if you realize what a rare quality that is in a teacher/artist.


I wish to personally thank you for a wonderful workshop, it was chock full of technique, instruction, advice and was top notch on every level from form, function, aesthetics, quotes and psychological response to artworks.
You are a gifted educator and artist and I was so happy to be a participant in your workshop.You are truly giving and that is a special quality that you don't often find. What I learned in your workshop will take me months to digest.

It was such a pleasure being a part of your workshop. I discovered so much about myself and the direction I need to follow.


What fun, and the time was informative, challenging, very broadening, and left me hungry for more! Thanks for your great teaching, generosity of spirit, and patience.


I am still energized from your workshop last week and have been working on really pushing myself into new territories. Thank you so much for your inspiration, mentoring and support!

Thank you again for such a special class…one of the best I have taken. You shared so much and I learned a lot!